4 Pcs Clay Mask Set, Turmeric Vitamin C Clay Mask , Green Tea Mask...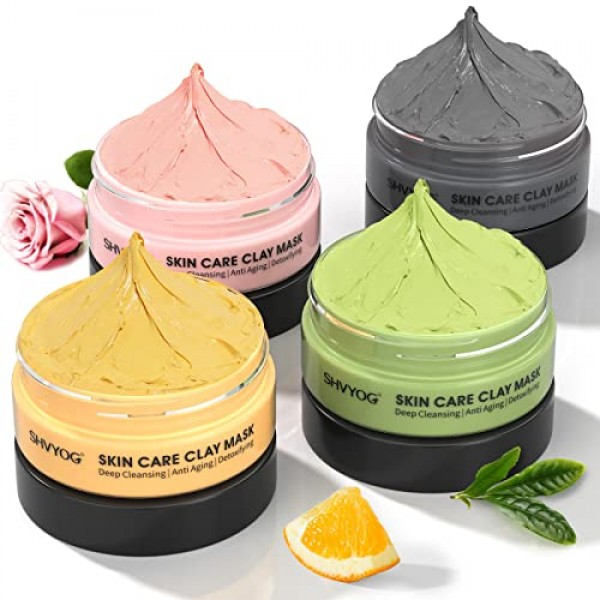 4 Pcs Clay Mask Set, Turmeric Vitamin C Clay Mask , Green Tea Mask, Dead Sea Mud Mask, Rose Clay Mask, Skin Care Face Mask Clay Facial Mask for Deep Cleansing, Moisturizing and Refining Pores (240g in Total)
TRAVEL SIZE CLAY MASK MOTHERS DAY GIFT - A super excellent clay facial mask kit with natural and safe ingredients for all skin types ! Vitamin C Turmeric Face Mask, Green Tea Mask, Dead Sea Mud Mask and Rose Clay Mask 4 in 1 mud mask kit with beautiful packaging is a great gift for anyone and also be a self-care gift. 60g each bottle, 240g in total, this facial skin care product is a super great value for your purchase.
VITAMIN C TURMERIC CLAY MASK - This vitamin c face mask is natural, vegan and cruelty-free, so you can use them with confidence! Vitamin C has the ability to stimulate collagen production, which helps improve facial complexion and rejuvenate skin with a natural glow. The turmeric content in the mask helps to lighten dark spots, reduce blemishes, smooth out fine lines on the skin, and increase skin elasticity for a firmer look.
DEAD SEA MUD MASK - This skin care clay mask helps to cleanse the skin and provide a soothing sensation. Enriched with minerals and high quality dead sea mud, it helps to renew the skin and gently purifies and cleanses clogged pores. It removes excess oil, toxins and dead skin cells from the skin, leaving it softer and more radiant. Facial skin care is necessary for daily life and for best results, use clay masks for a long time to get cleaner and smoother skin.
GREEN TEA FACE MASK - This deep cleanse green tea mask utilizes the powerful minerals in natural green tea extract for deep detoxification, expelling toxins and impurities, toning and moisturizing the skin for a flawless complexion. Regular use of green tea detox face mask can achieve a significant antioxidant effect, and persistent use will find that the green tea detox mask plays a perfect role in slowing down the aging process.
ROSE PINK CLAY MASK - Moisturizing rose clay facial mask contains rose and advanced active ingredients improves signs of skin aging, pores, brightens the complexion while nourishing the skin and preserving the skin's internal moisture, leaving your skin feeling clear and refreshed. We aim to provide you with a perfect online shopping experience, if you are not satisfied with our skin care mask kit for any reason, we will solve it for you as soon as possible, please feel free to contact us.
100% SATISFACTION - Please assure that we always stand behind our clay face mask set. Should you for any reason be unhappy with your purchase, we provide you 24/7 customer support, please feel free to contact us. We will do our best to resolve your issues.