10 Pairs Manga Lashes Wet Look Japanese Style Cosplay Spiky Eyelas...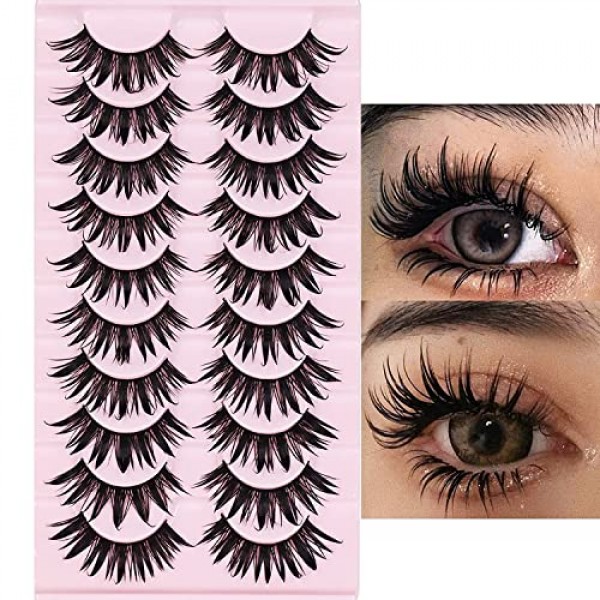 10 Pairs Manga Lashes Wet Look Japanese Style Cosplay Spiky Eyelashes Anime Lashes 16MM Wispy Thick Faux Mink Doll Eyelash Extension Look Like Individual Clusters by AUGENLI (02)
???? Cute Cosplay Lashes The cute doll eyelashes are thicker and wider than ordinary manga lashes, and the pointed shape is suitable for cosplay, and can also be used for daily wear, giving you a sexy and cute feeling.
???? Japanese Style Manga lashes 16mm manga lashes, natural curl, longer-lasting shape, accentuate your eyes, bring a cute manga character effect.
???? Comfortable Lash Band Anime lashes are made of black cotton lash band, easy to apply, soft and comfortable, fit your eyeliner, suitable for any eye shape, very suitable for beginners.
???? look Like Individual Clusters lash Mink lashes are designed with a 3D effect and blend lengths to blend perfectly into your natural lashes, easily achieving the same results as in a lash salon.
???? Reusable and durable The false eyelashes are handmade, easy for novices to use, and can be reused 10-15 times with proper
???? Occasions And Gifts These thick false eyelashes, make your eyes look more attractive, suitable for Christmas, Halloween, cosplay, etc., also suitable for daily wear, such as work, dating, shopping, perfect gift for girls/ladies Gift.
???? Contact us If you have any other questions, please feel free to contact us, we will resend qualified products for free or give you a full refund.
????Lashes are a great way to express yourself, or just add an extra special feature to your look. These Anime Cosplay lashes are perfect for a number of costumes and styles, from Gothic to Manga and everything in-between.