[Pack of 2]100W Led Plant Grow Light Bulb, Full Spectrum 150 LEDs ...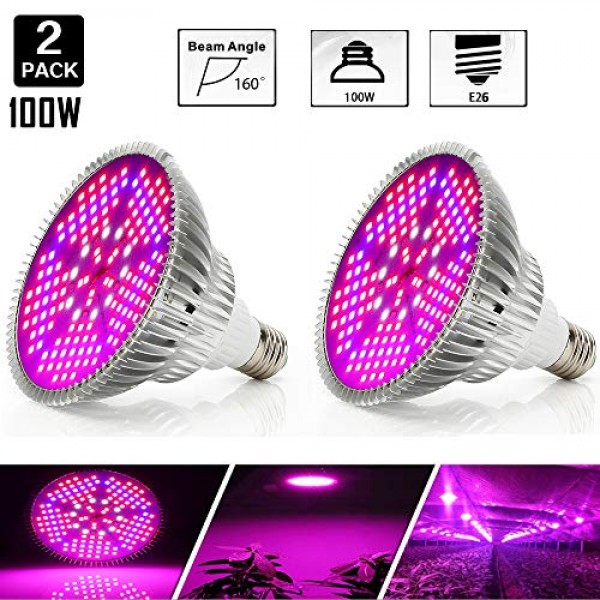 [Pack of 2]100W Led Plant Grow Light Bulb, Full Spectrum 150 LEDs Indoor Plants Growing Light Bulb Lamp for Vegetables Greenhouse and Hydroponic, E26 E27 Base Grow Light Bulbs, AC 85~265V
Specification:
Item Type: 2835SMD LED Grow Light
LED Quantity:150pcs
Wattage: 100W
Color: Full Spectrum:100Red+35Blue+10White+5IR
Base Type:E26
Lumens:4000-5000
Input Voltage: AC85-265V
Lifespan :50000 hours
Features: saving energy
How dose the specific wavelength work:
Blue(wavelength: 400nm ~ 520nm):Help plants grow
Red(wavelength: 610nm ~ 720nm):Help plants sprout and flowering , and is the key for flowering plants
White LEDs ---- Full-spectrum provide fill for all missing spectrums and add Lux.
IR(wavelength: 730nm): IR can help plants grow;
It can influence the formation of chlorophyll, help the plants to intake more energy. Helps photosynthesis
Best lighting time: 8-12hrs/day
Plants' Growth:
As we know, sunlight is essential for plant growth cause it influences plant photosynthesis.
For indoor plants, they can't get enough sunlight, so they need a extra light source.
This Led Grow Light is full spectrum, it can provides the most efficient wavelengths of light and suitable for all stages of plants' growth.
>
Product Application:
The light is suitable for all stages of plants' growth, it can used for flowers, succulent,hydroponic and greenhouse plants like bananas, flowers, dendrobium orchids, seaweed, green peppers, eggplant, bitter gourd, tomatoes, grapes, lettuce and so on>
Package include
2pcs 100Watt 2835SMD LED Grow Light
❤️[Full Spectrum]:100W LED Grow light bulb has 150PCS High-efficiency 2835SMD LED chips: 100Red+35Blue+10White+5IR(red 620-660nm,blue 440-460nm,IR 730nm,white 3500K-6000K) ; Plant light can provides the most efficient wavelengths of light to enhance photosynthesis performance hence improving plants' healthy growing
❤️[Save Energe] - this 100Watt Plant Grow Light equivalent actual power consumption is about 30W, save electricity, input voltage: 85V ~ 265V, Size:122*125mm(D*L) long life, up to 50,000 hours
❤️[Excellent Heat DissipationI Effect] - Plant bulb is made of metal aluminum radiator shell, you can always keep the temperature at the appropriate level, effective for plant growth and protection
❤️[Easy to Use] - This plant bulb design standards E26 socket. Input Voltage: AC85-265V, Lumens: 4000-5000LM.Installation is very convenient
❤️[Application+Sale] - 100w LED Plant Lamp is Widely used in greenhouse plants, flowers, hydroponic systems and vegetable cultivation, corn, a few sun, rain, snow, indoor dark growth, to plant additional sunlight,Christmas Sale, save 5% with coupon when you purchase 1 or more on this plant grow light offered by EnerEco