Oase Pondovac 4 Professional Koi Pond & Water Garden Vacuum System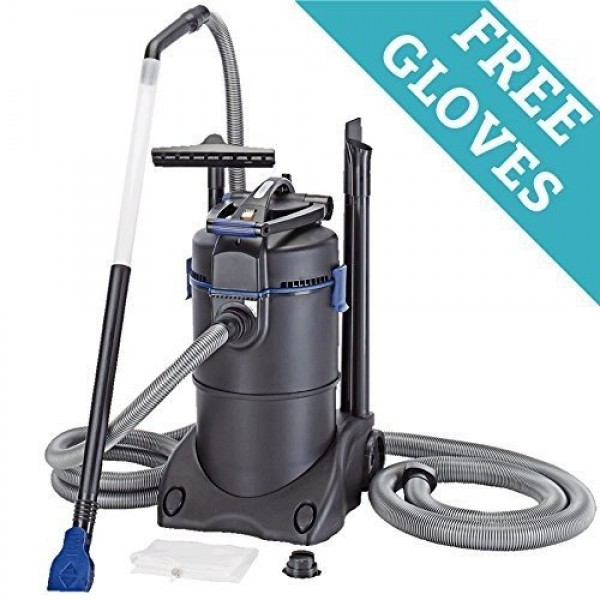 Oase Pondovac 4 Professional Koi Pond & Water Garden Vacuum System
Oase Pondovac 4 Pond Vacuum is arguably the best pond vacuum system ever designed. Powerful three-in-one unit functions as pond, swimming pool AND household wet vacuum! 20% more powerful than the Oase Pondovac 3, the new Pondovac 4 Pond and Pool Vacuum is designed so you can easily achieve a well-groomed pond you're proud to show off. Rugged contractor-friendly vacuum features a patented two-chamber system driven by a 1,800W motor. Enjoy continuous operation even at depths of two meters without experiencing significant loss of suction. Choose from five professional nozzle attachments to power through pond muck, sludge or even stubborn string algae with ease. Rigid extension tubes consist of four aluminum tubes and a transparent tube to extend your reach up to ten feet from shore. Fully portable unit with rugged wheels and handle doubles as a compact caddy that neatly stores hose and accessories for easy transport. Enjoy wet vacuum power that transitions seamlessly from pond cleanup, swimming pool maintenance or household wet-vac operation. 2.6 gallon capacity. Removes particles up to 3/8".
Dual-chamber Vacuum System: Two cylinders alternate suction and drain cycle to provide continuous suction.
Sludge Drain with Drain Hose: Dual-discharge option for draining waste water directly into flower bed or attach debris bag and place into pond to "recycle" pond water during coarse debris removal. Use Drain Cap during wet-vac operation.
Aluminum Extension Tubes: Lightweight bend-resistant tubes.
Transparent Extension Tube: Allows easy visual inspection of debris material and to monitor operation.
Universal Multi-Tool: Removes pond sludge without taking in pond gravel.