Oakton WD-35634-30 pHTestr 30 pH Tester, For Temperature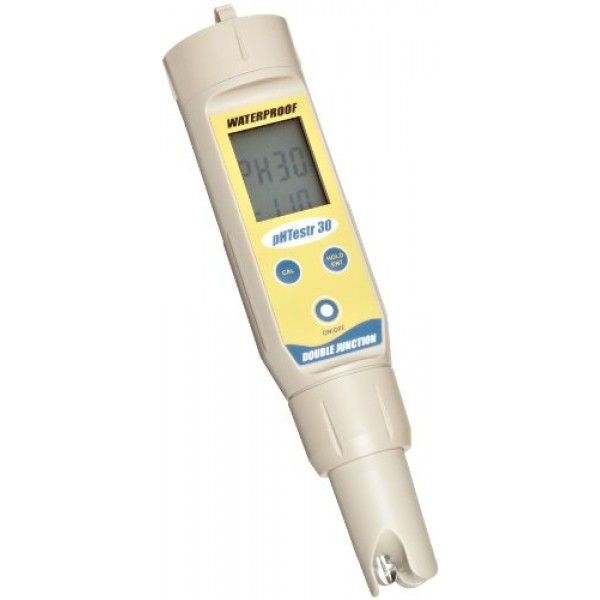 Oakton WD-35634-30 pHTestr 30 pH Tester, For Temperature
The Oakton 35634-30 pH Testr 30 is a handheld, waterproof and dustproof meter that floats, if dropped in liquid, and features a replaceable double-junction electrode within its reusable tester body. A portable meter is commonly used to measure the pH of substance such as food, beer or wine, and is also used to test cleaning water, rinse water, and wastewater, in chemical, industrial and food applications. This microprocessor-based meter has Automatic Temperature Compensation (ATC) for accurate readings in fluctuating temperatures, and three-point, push-button calibration with auto-buffer recognition of US and National Institute of Standards and Technology (NIST) standards for a wide range of results. The meter's waterproof and dustproof housing has an Ingress Protection (IP) 67-rating for protection against solid objects or liquids. It has a large, upright, dual-line LCD screen for ease of viewing, error messages, a hold function which freezes readings for recording, and an auto shut-off that turns the meter off after 8.5 minutes of nonuse to extend the life of the batteries. It has a protective cap to reduce contamination and a double silicone O-ring for ease of electrode module replacement.
The 35634-30 tester has temperature display from 0 to 50 degrees C (32 to 122 degrees F), and operating temperature of 0 to 50 degrees C (32 to 122 degrees F). pH range -1.00 to 15.00, resolution 0.01, accuracy + or - 0.01, calibration up to three points with US or NIST buffers at 4.0, 6.86/7.0, or 9.18/10.0. It can be used with Tris buffers. Its dimensions are 6.5 (h) x 1.5 (w) inches (16.8 x 3.8 cm) and it weighs 3.25 ounces. The tester works with four 1.5 V alkaline batteries (not included) for up to 500 hours of continuous use (Eveready A76 or LR44 equivalent replacements).
pH testers measure the acidity or alkalinity of a substance. They are commonly used for water testing, and for biological sample analysis in hydroponics, aquaculture and agriculture.
Oakton Instruments manufactures an array of scientific instruments for research, industrial, and educational uses. Since 1991, Oakton has distributed a wide variety of instruments such as meters, electrodes, and transmitters. Oakton is based in Vernon Hills, IL, and has facilities in Europe, Asia, and China.
What's in the Box?
Three-point, push-button calibration with auto-buffer recognition for a wide range of results
Automatic Temperature Compensation (ATC) for accurate readings in fluctuating temperatures
Unique, double-junction electrode design and increased reference gel volume for long electrode life in harsh environments
Large, upright, dual-line LCD display screen for ease of viewing, and to display indicators
Waterproof, dustproof housing that sits on a flat surface and the meter floats, if dropped in liquids