Life Extension Advanced Milk Thistle, 120 softgels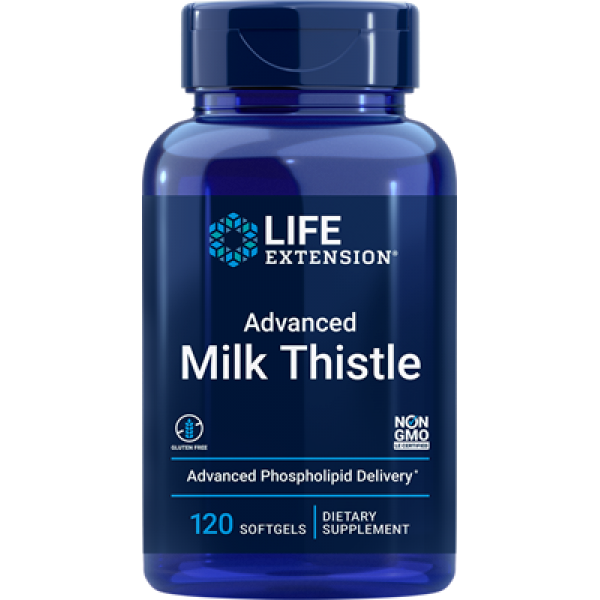 Healthy liver, healthy body Modern living puts a heavy load on the liver, making it critical to proactively maintain liver health. That's where hepato-protective herbs such as milk thistle come in. Milk thistle contains antioxidants that support not only liver health, but overall health.1-3Silymarin is extracted from milk thistle. This extract is a powerful free radical scavenger that promotes healthy liver function in its own right.4-10 Advanced extraction technology has now allowed us to isolate other constituents within the silymarin extract itself and test their ability to support liver health and beyond. Other compounds in our milk thistle extract Silibinin is another compound present in our high-quality milk thistle extract. Made up of silybins A and B, it is the most biologically active flavonolignan component found in milk thistle extract. Its beneficial effects on the liver have been shown in pre-clinical and clinical studies.8,11 Other milk thistle extracts called isosilybin A and B have proven to be the most efficient at helping to maintaining healthy cell division.12,13 Phosphatidylcholine and other phospholipids enhance milk thistle's delivery The main bioactive compound of milk thistle, called silybin, does not dissolve well in water.14 This makes it difficult for the body to absorb all of it.14,15 Scientists have overcome silybin's poor bioavailability by integrating it into a phytosome. A phytosome is a tiny sphere made out of plant-derived phosphatidylcholine. This phosphatidylcholine-based delivery system facilitates transportation across the intestinal lining into the bloodstream, making it an ideal carrier molecule for silybin.8,15,16 Scientists believe that phosphatidylcholine molecularly bonds to silybin, helping to steer it through the cell membranes in the intestinal tract.15 This improves the delivery of the benefits of milk thistle extracts for liver health. Preclinical and clinical evidence showed that this silybin-phosphatidylcholine complex resulted in almost 5-fold greater concentrations of silybin in the bloodstream than silymarin alone, and its ultimate bioavailability to the liver, its target organ, is up to 10-fold greater than pure silymarin.17-19
Serving Size 2 softgels

Servings Per Container 60

Amount Per Serving

Milk Thistle Phospholipid Proprietary Blend

760 mg

Milk thistle extract (fruit) [providing 480 mg silymarin, 180 mg silybin, 48 mg isosilybin A and isosilybin B], phospholipids
 
SILIPHOS phytosome milk thistle extract
160 mg
(fruit) [providing 47.52 mg silybin]
 

Other ingredients: sunflower oil, gelatin, glycerin, purified water, carob color, beeswax.
SILIPHOS is a registered trademark of Indena S.p.A., Italy.
Contains Soybeans
Dosage and Use
Take two (2) softgels daily, in divided doses, or as recommended by a healthcare practitioner.
Warnings
KEEP OUT OF REACH OF CHILDREN
DO NOT EXCEED RECOMMENDED DOSE
Do not purchase if outer seal is broken or damaged.
When using nutritional supplements, please consult with your physician if you are undergoing treatment for a medical condition or if you are pregnant or lactating.
To report a serious adverse event or obtain product information, contact 1-866-280-2852.