Disposable Vinyl Gloves - Powder Free, Clear, Latex Free and Aller...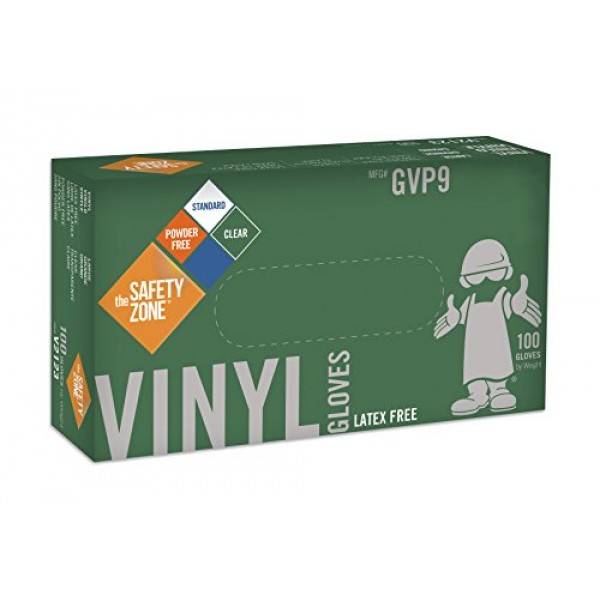 Disposable Vinyl Gloves - Powder Free, Clear, Latex Free and Allergy Free, Plastic, Work, Food Service, Cleaning, Wholesale Cheap, Size Medium (Box of 100)
Every day, we are exposed to germs, bacteria, viruses, mold, solvents, chemicals or cancer-causing agents that can enter the body through our hands and skin. These hazards live on the surface of hands and can be transmitted through touch. Disposable gloves are effective in minimizing transfer risks and protecting public health.
Not all gloves are equal! For over 40 years, The Safety Zone has built an industry-leading reputation for consistent quality and fair price. The gloves you buy today will perform equal or better than the gloves you bought previously. Our gloves are less likely to rip or tear. We avoid cost-cutting and material reformulations that often result in inferior products and health risks.
Choose the right glove for the right application. Glove variables include material, price, comfort, fit, durability and personal preference. All Safety Zone glove components comply with the provisions of the Federal Food, Drug and Cosmetic Act which allow repeated use in direct contact with food and are DEHP free.
Vinyl gloves are our most-popular disposable gloves. They are latex-free and come with or without food grade corn starch powder. Powdered gloves are less expensive and are easier to take on or off, especially if your hands are wet. Powder-free gloves cost a little more due to the extra process of chlorinating so the glove can be easily donned.
Vinyl is a step-up from polyethylene gloves. They are stronger and more durable, fit tighter and are more flexible which provides good sensitivity and dexterity. Their slightly loose fit allows the glove to breathe, so applications where gloves are worn for a periods of time are ideal for this glove. Vinyl gloves are most-often used in the food service industry (food preparation and busboy cleaning) while professionals in cosmetics, medical and cleaning services use them as well. Around the home, vinyl gloves are ideal for meal preparation, messy tasks, light cleaning, personal care, pet care, painting, arts and crafts. Vinyl is an economical alternative to latex and nitrile gloves.
Premium quality - resists tearing, Strong, yet flexible (stretches) with good dexterity and sensitivity
Ideal for food service, cosmetology, health care and cleaning professionals, Latex-free for people with allergies or sensitive skin
Ambidextrous (fits right or left hand), Textured and contoured for good fit and grip
Rolled cuff and chlorinated for easy opening, quick donning and fast removal
Cost-effective alternative to latex and nitrile