Novelty Lights 25 Pack C9 LED Outdoor Christmas Glass Replacement ...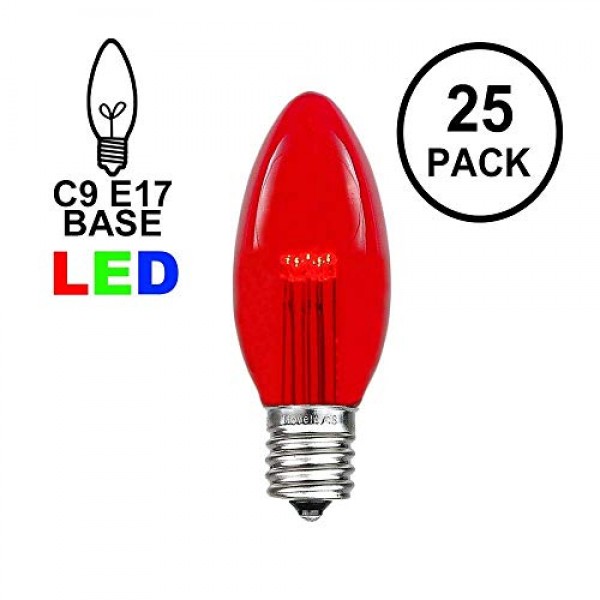 Novelty Lights 25 Pack C9 LED Outdoor Christmas Glass Replacement Bulbs, Red
C9 LED Christmas Replacement Bulbs - Traditional Christmas Light - Outdoor String Light Set - Christmas Tree Lights
Novelty Lights retro fit glass LED C9 replacement lamps will update your Christmas light display with the new, energy-efficient LED light technology. These C9 Christmas lights have 5 ultra bright LED's per bulb, fit into an intermediate (E17/C9) base, and are housed in glass which does not discolor in weathering. While traditional incandescent C9 bulbs use 7 watts (0.059 amps) per bulb, our LED replacement bulbs use only 0.75 watts (0.001amps). Therefore, our C9 LED bulbs are the environmentally friendly, extremely cost effective way to light up your home or business for the Christmas season with the most brilliant and long-lasting lights around. These LED C9 bulbs screw into our C9 stringers (25' & 100'), our E17 Heavy Duty strings (25', 100' & 330'), our commercial grade bulk 1,000' C9 spools, as well as our vintage Twisted Wire Heavy Duty E17 bakelight strings. 
25 Pack of Traditional C9 LED Bulbs
Fits a Intermediate Base (E17/C9)
Uses only 0.75 Watts (0.001 amps)
120 Volt
UL Listed for Indoor and Outdoor Use
Dimmable
5 Super Bright LED's Per Bulb
3-Season Warranty
50,000 Hour Bulb Life
C9 Stringers Sold Separately
Your satisfaction is our #1 priority and if you have any issues at all please let us know!
Each C9 bulb is 3" tall by 1 1/4" wide with a intermediate C9/E17 base which makes these perfect for an outdoor patio, Christmas tree lights, roofline Christmas lights, restaurant, beer garden, pergola, wedding venue, or umbrella string lighting (strings sold separately).
Each bulb uses .75 watts or .017 amps and are made for 120V power sources. These bulbs use 1/10th the energy of an incandescent C9 bulb and create a more vibrant type light for your outdoor Christmas lighting application.
Each C9 retro fit bulb is made with five diodes per bulb and does not produce heat and are vibration resistant for a nice steady stream of decoraction lighting. Looks Great on house rooflines for Christmas!
These high quality energy efficient C9 light bulbs are long lasting 50,000 hour bulbs and are made with a Nickel C9 base which we will warranty for one full year from date of purchase.
PRODUCT NOTES: The listing is for REPLACEMENT BULBS ONLY with C9 strings sold separately. The bulb dimensions are 3" Tall by 1 1/4" Wide and are shown with reference in the secondary images. Please make sure that you that you are in need of a C9 Intermediate base bulb before ordering because a common mistake by customers is ordering the wrong size bulb. BROKEN BULBS? IF YOU HAVE ANY BROKEN BULBS PLEASE CONTACT OUR CUSTOMER SERVICE AND WE WILL SEND YOU REPLACEMENT BULBS.