Personal Lubricant. Nooky Lube Natural Water-Based Lubes for Men a...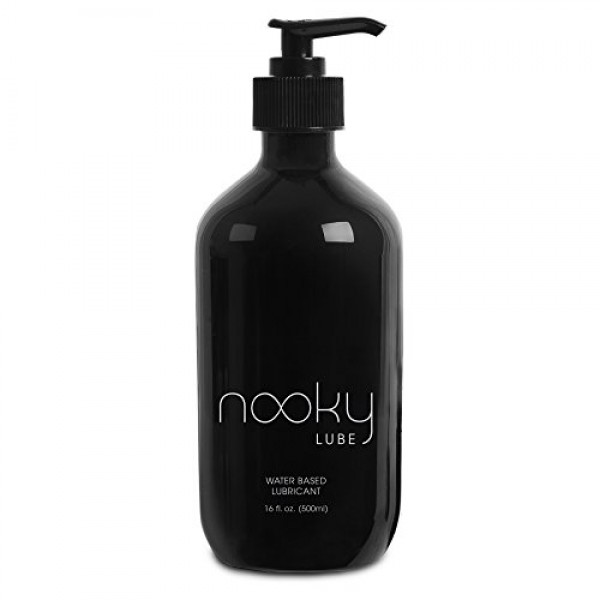 Personal Lubricant. Nooky Lube Natural Water-Based Lubes for Men and Women. 16 oz. - Made in USA - 100% Unconditional Money Back …
THE RIGHT LUBE CAN MAKE ALL THE DIFFERENCE
A premium natural water based lube that comes in elegant discreet packaging.
- No more dryness.
- Designed to enhance love making.
- Glycerin-free and paraben-free.

Many women suffer from a lack of lubrication during love making. The reality is, love making isn't always as romantic as it is in the movies, sometimes it's uncomfortable and could use some lube. A recent study from Indiana University found that extra lube made love making more satisfying. So that's why using a lubricant like Nooky Lube can enhance your experience
Nooky lube is made in the USA in a state of the art FDA approved laboratory that has been meeting the strictest standards for production for over 20 years.
NOOKY LUBE provides a discreet solution to dryness but this product has not been evaluated for condom compatibility and may damage condoms.
Legal Disclaimer:The product statements on this page have not been evaluated by the FDA. This product is not intended to diagnose, treat, or cure any disease. On our page, we merely give statements that are in the public domain.
100% Satisfaction Guarantee
Click the button at the top of this page now to provide a discreet solution to dryness.
Free of glycerin and paraben, suitable for sensitive skin.
A premium silky smooth sex gel that provides lubrication that doesn't dry out.
Colorless and tasteless, easy to clean up, rinses off with water.
This pure waterbased sexual product is perfectly suited for couples and all toys and cleans up easily as it is water based leaving no stains. Discreet packaging perfect for the bedside table. 100% Money back guarantee