Neck King - Hands-free Self Massage Tool for the Neck and Back Blue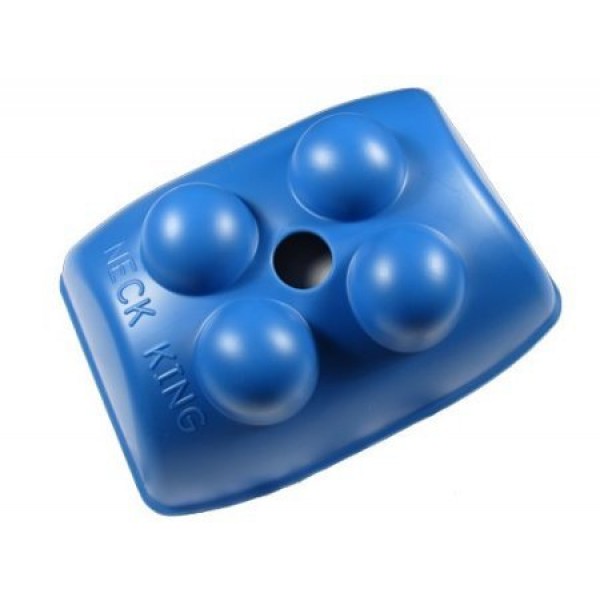 Neck King - Hands-free Self Massage Tool for the Neck and Back (Blue)
For best results, gradually work your way into using Neck King with a short session. It is also recommended to pad with a folded towel over the bumps if you are not accustomed to deep tissue work or use it in a seated position.
1. Gently lay on Neck King and relax - the bumps will melt into the areas of tension.
2. Note what areas need to be worked on by the tenderness under the bumps.
3. Tenderness should decrease or be eliminated with regular use of the Neck King.
It is normal to feel tenderness where the bumps make contact with tight muscles.
If the tenderness is too intense for you, pad the bumps with a folded towel to your comfort.
You also can use in a seated position for a lighter touch.
Only a few minutes is needed to release tense muscles.
Muscle tension accumulates from tensing muscles from stress or holding the body in unnatural positions. if you are not standing or sitting in a true upright relaxed position muscles will tend to tighten up and develop trigger points. Whether you are riding a bike, looking down at your desk, on the computer, woking under a car, a surgeon, a dentist, a welder or pretty much anyone that has to hold them self in certain positions for any length of time will benefit from using Neck King.
Cautions
- Check with your doctor if you have any injuries or medical conditions before using Neck King. - Stop using if you feel any numbness. This could happen if you stay on the bumps in one spot for too long. - Do not sleep on Neck King. - Do not work the area just below the back of the skull aggressively. This area can irritate cranial nerves more easily in some people causing numbness or a delayed numbness. Start with minimal use in this area to make sure this isn't a problem for you.
Neck King is manufactured by SuperFit Therapy. It is designed to release tension in the neck and back muscles by applying direct pressure to tight and tender trigger points allowing them to release.
For best results, gradually work your way into using Neck King with a short session. Neck King is made out of a hard durable plastic to get into your problem areas. It is recommended to pad with a folded towel over the bumps if you are not accustomed to deep tissue work or use it in a seated position.
It reduces pain and pressure on nerves. It increases range of motion and circulation to tense muscles.
** Also available in Limited Edition colors! **
*** See our Product Description below for tips on using Neck King ***