Nano Towels - Amazing Eco Fabric That Cleans Virtually Any Surface...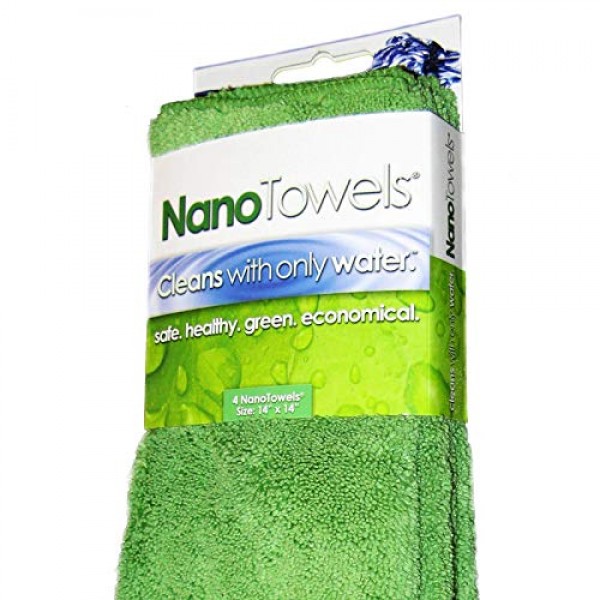 The Nano Towels use proprietary Nanolon fiber, the breakthrough fabric technology that Cleans With Only Water, replaces expensive paper towels and toxic cleaners, and can help you save hundreds of dollars per year while making your home safer, healthier and greener.
Go Green Go...Use 80% less paper towels and completely eliminate toxic chemical cleaners. The Nano Towel is probably the most versatile cleaning instrument ever invented. You can use to clean a dizzying array of surfaces and substrates.
Use the Nano Towels for cleaning glass, countertops, sinks, tubs, floors, wood, granite, dusting, and even difficult to clean stainless steel. Completely clean all the surfaces in your bathrooms and kitchen. Then you can go clean the interior and exterior of your car, boat or RV.
Use in your bathroom for keeping mirrors clean and free of toothpaste, hairspray and makeup. Easily wipe down the sink and chrome fixtures. And keep a fresh one for your skin. The NanoTowel is so gentle it can even clean skin and remove makeup with no harsh chemicals.
We do many harmful things to ourselves and to the environment out of simple force of habit. Big corporations bombard us with advertising and we tell ourselves "everyone else" does it. These harmful lifestyles become routine because "it's the way it has always been done" and frankly most people think that paper towels and toxic chemicals are the only way. But we believe that once someone discovers the harm they are doing to themselves, and are given an option to create a new positive change, they jump at the opportunity.
Think about it. You don't have to completely eliminate your paper towels or cleaning chemicals. But just try the NanoTowels, and you will find yourself effortlessly adding them to your routine to make a huge difference in your health.
Under normal conditions the Nano Towel should last between 2 to 3 years, or 300-400 washes.
NANOLON FIBER IS A PROVEN BREAKTHROUGH CLOTH TECHNOLOGY It captures liquid, dust, dirt and grime like a magnet. You can use it to clean and dry virtually any surface without paper towels and without toxic chemicals. When it becomes dirty, you just wash it and use it again. This is NOT old, common microfiber cloth. Nanolon is a new, next generation fiber PROVEN in laboratory testing to clean as well or better than chemical cleaners and paper towels using only water.
USE THE NANO TOWELS TO CLEAN VIRTUALLY ANYTHING without paper towels and without toxic chemicals. Nanolon is a new, next generation fiber PROVEN in laboratory testing to clean numerous surfaces as well or better than chemical cleaners and paper towels using only water. Use as kitchen towels, dish towels, bath towels and cleaning wipes.
CLEANS WITH ONLY WATER. NO CHEMICALS AT ALL. The NanoTowels are specially designed to give optimum cleaning with nothing but water, and are so easy to use. Simply spray or wipe the area to be cleaned with water, clean with the NanoTowel and buff dry with the dry side (or use another dry NanoTowel). You will then have a clean surface that is TRULY clean, because it is free of chemical residue. Even tough to clean surfaces like stainless steel and glass come completely clean and streak-free.
HUGE MONEY SAVINGS. Paper towels cost as much as $3 per roll and each name brand cleaning chemical is $4-$5 per bottle. How big of a dent is this putting in your household budget? If you're like the average American, it runs several hundred dollars a year or more. A one time purchase of the NanoTowels costs a little more up front, but can cut these long term costs from your budget, and allow you to save a significant amount of money over the long term.
100% GUARANTEED WITH 1-YEAR WARRANTY. We guarantee the NanoTowels to work as good as your favorite cleaning soaps/chemicals and replace up to 80% of your paper towel usage, or your money back. No gimmicks and no nonsense. If you aren't personally 100% convinced that the NanoTowels are the best, safest and most cost effective cleaning method you have ever used...YOU DON'T PAY! Comes with an unprecedented 1-YEAR WARRANTY that you can register online. See packaging for details.