Mouth Guard from ProDental - BPA Free - Teeth Grinding Night Guard...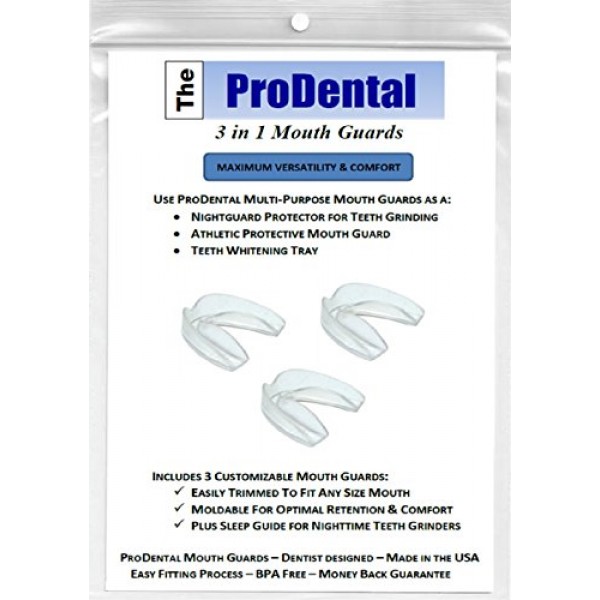 BEST VALUE-3 Mouth Guards with Free Replacement. USA Made, FDA Approved, BPA Free & Latex Free Finest Quality Polyvinyl Material
When you purchase the ProDental 3-in-1 Mouth Guard set you will receive 3 high quality mouth guards that can be used for either Nighttime Teeth Grinding Protection,
as an Athletic Mouth Guard or as a Teeth Whitening Tray
What separates the ProDental 3-in-1 Mouth Guard from the competition? It starts with...
- PERFECT FIT - easily trimmed to fit any mouth size. However, if you have a small mouth or used to wearing a thinner dentist made mouth guard then the ProDental Thin and Trim Anti Grinding, Teeth Whitening Mouth Guard
may be a better option for you (search for: B073ZKZVHC on Amazon)
- DENTIST DESIGN & SUPPORT- The only mouth guard on the market that has direct dentist support to help with the molding or fitting process. A dentist is on staff providing email, phone & free lab support
- CUSTOM MOLDED - you can custom mold your mouth guard to ensure a precise fit - this is not a one size fits all mouth guard! Plus get a Free Replacement if you mismold
- BUILT TO LAST - thick 3mm durable base provides extra cushion and shock absorption and also prevents wear through
- EASILY ADAPTED - Fits a variety of teeth alignments, tooth size & mouth shape for optimal retention - secure fit locks in place while sleeping. Can be worn on either upper or lower teeth

It's because of this that we're able to make a guarantee unlike any other you've seen for a mouth guard. We call it our Better Than Money Back Guarantee and here it is...
Try our ProDental 3-in-1 Mouth Guards for 30 days. If you don't love the way they fit or work for you, we'll give you your full payment back no questions asked, whether you use 1 or all 3 guards in the set (only applies to purchases made from MKC Products)
Click the Orange Button at the Top of this Page to Protect Your Smile Now!
DENTIST PROFESSIONAL DESIGN & SUPPORT - The only moldable guards on the market that have direct dentist support. If you need help with the molding or fitting process a dentist is on staff providing email, phone and free dental lab support.
CUSTOMIZABLE FIT FOR PROTECTION AGAINST TEETH GRINDING & BRUXISM - Set of 3 mouth guards can be trimmed and customized to fit for any size mouth for optimal comfort and retention.
BUILT TO LAST - Mouth guards are made in the USA from high quality long-lasting, hygienic, soft, FDA-approved odor free and taste free polyvinyl material ... each dental guard lasts 12 months or longer when used daily for teeth grinding or bruxism, or as an athletic protector or as teeth whitening trays
OPTIMAL RETENTION - Each of the 3 multi-use mouth guards are moldable to ensure a precise fit for guaranteed retention and comfort
MAXIMUM VERSATILITY - Multi-use functionality and durable design of each occlusal guard gives you the most cost effective solution. Order now with peace of mind due to our free replacement, 30 day "better than money-back" guarantee. See product description below for more info.