monyar Garden Hose Expandable Water Hose 100 Feet,Extra Strenght/N...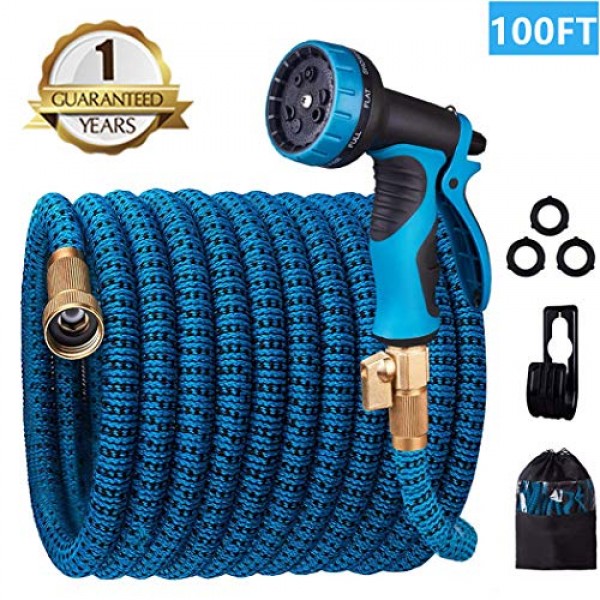 monyar Garden Hose Expandable Water Hose 100 Feet,Extra Strenght/No-Kink Lightweight/Durable/Flexible/10 Function Spray Hose Nozzle 3/4 Solid Brass Connectors Garden Hose for Watering/Washing
☛
1-Years Warranty & 90-Days Money Back Guarantee
If you have questions about this Expandable 75 Feet Garden Hose, Please Contact Us Immediately!
❤Are you sick of dealing with traditional inferior plastic gardening hoses?
❤Are you tired of hoses that kink and tangle into knots?
❤Are you fed up with purchasing those exandable garden hoses as seen on TV that burst or only last for a short time?
Don't worry our MONYAR will help you solve your troubles.
MONYAR expandable water hoses has been upgraded to the highest quality available. The water nose is made up of durable pressure-resistant latex material. This expanding hose is safe for average water pressure and will not burst or leak.
Multiple Use:
Watering Garden, Car Washing, Pet's Bath, Children's Games.
The 10-Pattern Spray:
Flat, Cone, Soaker, Full, Angle, Shower, Mist, Soaker and Center.
Specifications:
►Name: Garden hose
►Length: 75 Feet
►Inner Hose: Double layer latex
►Diameter of the valve: 3/4 inch
►Outer Material: 3750D polyester fabric
►Max Water Pressure: 12bar
►Lowest Working Temperature: 41 degrees
►Highest Working Temperature: 113 degrees
Package include:
►1 x 75 feet Expanding Hose
►1 x 10-pattern Spray Nozzle
►1 x Hose Hanger
►1 x Storage Bag/Carrying Case
►3 x Spare Sealing Rings
Notice:
1.Please read user manual carefully before using the garden hose.
2.Don't recommend to use the expandable water hose on garden hose reel.
3.Always drain the water from the expandable garden hose when not in use.
INCREDIBLE DURABILITY & HEAVY DUTY - The pipe, brass connectors, valve, nozzle and spray are made with durable premium materials and fabric. They will not rust, leak, tear, rip or crack, and this garden hose design for long-term use
10 PATTERN WATER HOSE NOZZLE - Compared to most 9 pattern hose nozzle. Our Water nozzle with 10 pattern. Durable zinc alloy construction; the rubberized outer coating is slip-resistant and comfy; water controlling knob for changing the water pressure; rotating bezel for easy choosing kind of spray. Select right type of the stream and water plants, clean garden or pool, shower pet or wash car
FLEXIBLE DESIGN - When the water is turned on the hose quickly expands up to 75 feet with the water pressure (3-12 Bar) and returns in minutes to its original length when the water is out. Just make sure there is enough water pressure to expand the garden hose.The water hose grows because of its double latex core with high density, low friction and 3750D polyester outer fabric. Never again will you have to lug around heavy rubber and vinyl garden hoses that kink and tangle
LIGHTWEIGHT AND FLEXIBILITY - The expandable garden hose is lightweight. The original length is 33 feet. It can be expanded up to 3 times of its original length with water pressure, then retracts when the water is turned off. Never kink and tangle. Lightweight, compact and storage easy
EASY TO USE & STOREGE - Usage and storage is a breeze thanks to the incredible expanding design. Super lightweight retractable garden hose can expands 3x to an impressive 75ft and returns to its original length in minutes for simple storage!