Monios-L T5 LED Grow Light, 2FT Full Spectrum Sunlight Replacement...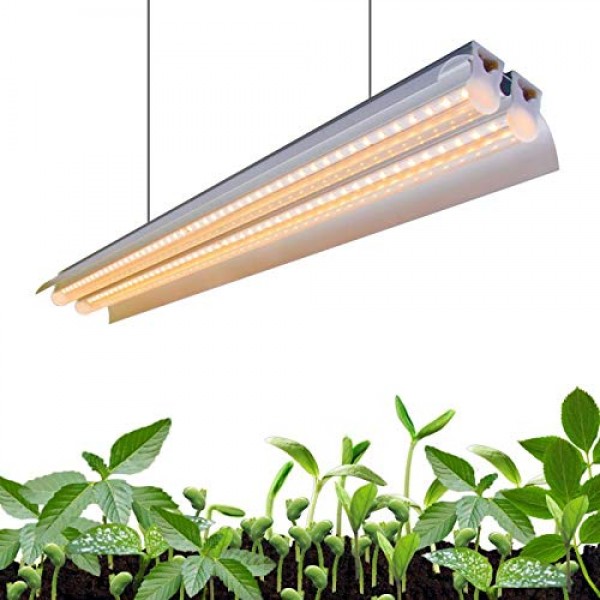 Monios-L T5 LED Grow Light, 2FT Full Spectrum Sunlight Replacement, 30W High Output Integrated Fixture with Rope Hanger for Indoor Plants, Hydroponics, Seedling, Growing, Blooming
Monios-L full spectrum plant grow light specifically promoting plant photosynthesis and creating a suitable light environment for plants.Warranty:
12 months warranty 100% money back.
Package include:
2FT LED Grow Light Fixture with cover
59 inches Power cord with On/Off Switch
2 x Connecting Wire (20 inches)
2 x 39 inches Rope Hanger
1 x accessory parts (2 clips + 2 Small Connector+2 screws)
Parts not included (chains, brackets, plant)
Product Specifications:
Size: 25.6 x 3.15 x 1.57 inch
Power: 30w±5%
Voltage: AC85~265V 50/60HZ
Features:
1. Full spectrum add lights to help plants grow, sprout and flowering, rapidly promoting leaves and flowers blooming. Help plants absorb nutrients, especially some trace elements.
2. Plants growing need bright light. A lack of light can cause a plant to lose leaves and/or develop poorly colored, pale leaves that are few in quantity. Monios offer you the perfect light intensity.
3. Energy saving and great light efficiency. Enough usable light with less electricity; Monios led grow light produce much light with less power.
4. Lifespan and maintenance cost. Monios grow light normal service life of 45,000+ rated hours - save your maintenance costs
5. Lower working temperature. Monios-L led light will take care your plants better than others with lower working temperature.
Tips:
1.This light can connect up to 8 grow lights together.
2.This light is all-in-one design, one unit, contains 2 lights. There are two switches so you can turn each light on/off independently. plug and play. can not be replaced.
3.keep it between 8-39 inches, this will ensure that the plant receives the most reasonable light.
4.Remember to keep enough water for the plants when you use the grow light.
✔ CRI 95+ Full Spectrum Monios-L 2ft led grow light with the full spectrum between 380-800nm, is the professional sunlight replacement for indoor plants.The 60W ultra bright leds provide high PPFD ( photosynthetic photon flux density ), perfect for seedling, vegetative and flowering cycle.
✔ Eyes protection This grow light are suitable for planting plants in any indoor application. 2900K color temperature makes your eyes feel comfortable. It works extremely well for your plant grow tents, plant grow shelves, seedling cultivation, succulents, hydroponic rooms, greenhouses, etc.
✔ Excellent heat dissipation The light efficiency can be increased by 17~20% with reflector. The shell of our light was made of 100% aluminum which provides the high-efficiency heat dissipation. Ensuring the longer service life of the led chips.
✔ Easy to install Ceiling or Hanging installation. Plug and play, no wiring and reconstructing needed.
✔ Quality after-sales service 12 months warranty 100% money back. Contact us for an easy and fast replacement.