MNP SP50 50W Large Powerful Twin Panel Solar Powered Submersible P...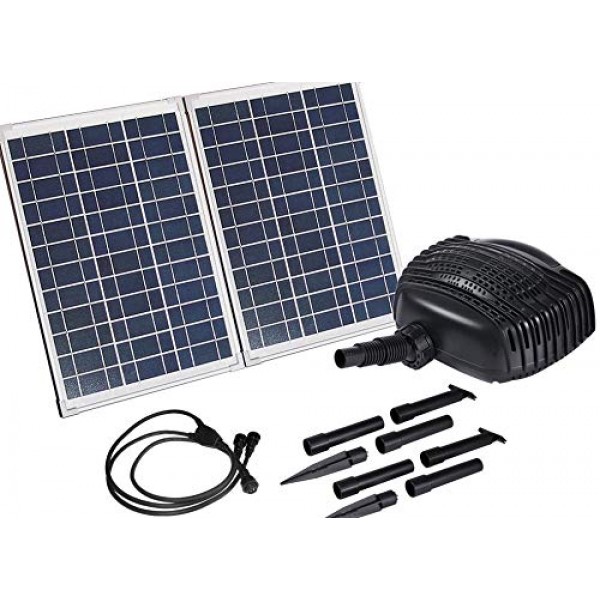 MNP SP50 50W Large Powerful Twin Panel Solar Powered Submersible Pond Pump Kit with 16 feet of hose 898 GPH - Kit weighs over 23 pounds - Ready to connect to waterfall or filtration system -
This is a great solar pump (needs sun to run!) for people with no power source available or to add a waterfall or filter system to an existing pond set up. The two solar panels can be placed up to 16 feet from the pump. (can be extended a further 16 feet with the PE10 Solar Pump Extender available here on Amazon) Has dry cut out feature. Two sensors on the pump have to be submerged for it to work. Has locked rotor protection that prevents the pump from failure due to debris blocking the pump. Comes with full instructions and is easy to install and maintain. Warranty is a full one year from date you receive this item. Specifications: Description Solar brush-less water pump kit Product Summary Peak power 25Wx2 Max-power voltage 17.28V Max-power current 1.447A x 2 Installation method plastic ground spike Max. head 3m(9.86ft) Max. flow rate 3400LPH(898 GPH) Cable length 5m (16.4ft) Dry run protection Yes There are 3.78 liters in a Gallon. Liters per hour - At various pumping heights (Head) We pride ourselves on our before and after sale service.
☀ Powerful Solar Pump Large (9x12x8 inches - too large for most fountains/water features) powerful submersible solar pump twin solar panels each 25W (size 24 x 13.5 inches) total 50W powered pond pump. This kit uses a proprietary solar brush-less pump representing a major breakthrough for solar powered water pumps and significantly reduces maintenance issues. Please see also our most powerful 100W solar pump by searching B07RVFB6JJ (new lower price offer at just $399) .
☀ Complete Kit Complete solar power kit includes 16 feet of plastic hose to connect the pump to a waterfall or filter box. Nothing more to buy and you should be up and running in a few minutes on a sunny day. Please note this pump has a max head of 10 feet.
☀ Extensions available Kit comes with 16 ft of electrical cable from the pump to solar panels. This can be extended multiple 16 feet lengths allowing you to hide the panels and/or place them where you get the most sun..
☀ Reliability and Safety Features Pump alone weighs over five pounds. It has dimensions about 10 by12 inches and needs some space around it to operate well. Very easy to clean. Has dry run cut off meaning it will help save some water for your fish in the event there is a leak somewhere. Some pumps run until they dry out a pond.
☀ Exceptional customer service Pump has a reliable and maintenance-free brush-less DC motor with a failure proof carbon brush and shaft seal, ensuring a long service life. All our products are backed up by exceptional after sales service seven days a week. To contact us please click "AQUAPLANCTON" just under the "Buy" box to the top right. We also have a smaller MNP SP25 and our most powerful MNP SP100 twin 50W = 100W solar pump.