Miracle LED Yellow Bug Light MAX - Replaces 100W - A19 Outdoor Bul...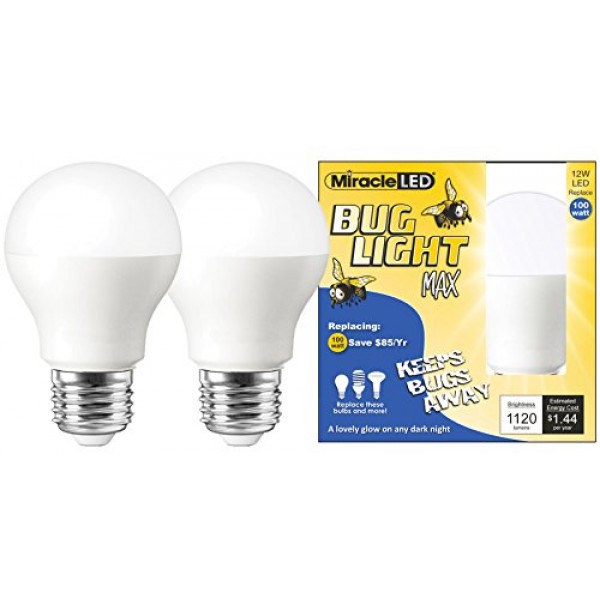 From the land of 10,000 lakes...and even more bugs! Look no further for a super-sized breakthrough in pest control technology. The 12W MiracleLED Bug Light Max bulbs in 2 pack combines time-tested bug light design with our cutting edge LED technology; this bulb is chemical free pest control to the Max! The time-proven Yellow light spectrum, no heat, and no UV all work together to light up your porch, patio or deck without attracting bugs or other pests! Perfect for busy suburbs or secluded cabins alike, this super-powered 1120 lumen bulb has twice the brightness and " non bug attracting power" of any other! Fully light your entryways, high peaks and porches for pennies a year and bring safety to your yard maintaining a dark sky result. Bugs and their primary food sources LOVE heat and UV light -- so we designed a bulb that produces neither! no harsh "street lamp appearance" here either, as the light emitted from this bulb is invisible to bugs but beautiful to you and I. Get huge energy SAVINGS replacing 100W bulbs with this 12W MiracleLED -- up to $85 a year off your energy bill by replacing just one bulb! all this with our most affordable pricing produces big SAVINGS when buying this 2 pack. LED chip technology is safer and more efficient because it's manufactured with no mercury or lead, has an instant start, is instantly bright, and saves energy. Trust MiracleLED, as one of the pioneers of LED development, to provide safe, efficient bulbs that benefit both yourself and the ENVIRONMENT. Technical specifications: 2000 Kelvin color temperature; standard E26 medium household base; 20,000 hour estimated lifespan; $0.96 estimated annual energy cost; U.L. Listed.
Produces virtually NO HEAT -- Does not attract bugs or moths
Specially designed Yellow colored light with NO UV is invisible to bugs but pleasing to humans
Save up to $85 Per Year Replacing 100W
Chemical Free Pest Control for your Patio, Deck, or Cabin -- Looks great in Coach Light and Outdoor Wall Lights
Light up your driveway or yard and bring safety to your home for just pennies a year!