Miracle LED Lovely Glow Yellow LED Bug Light Bulb, Porch / Patio /...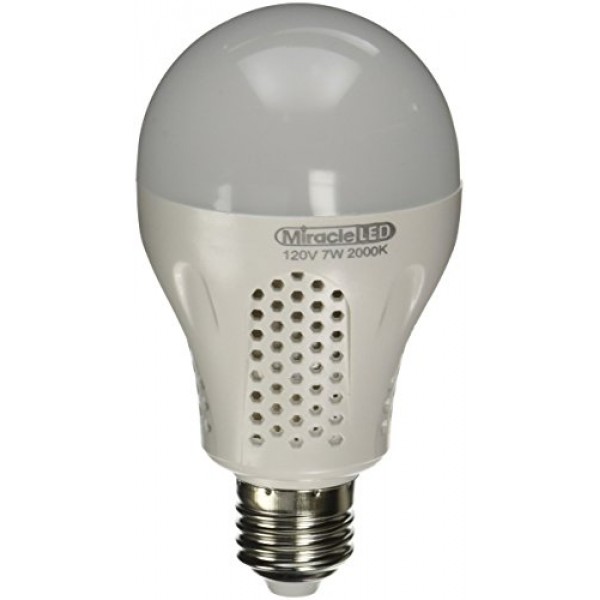 Miracle LED Lovely Glow Yellow LED Bug Light Bulb, Porch / Patio / Entry Way Outdoor Chemical Free Pest Control, Save Money - Replace 40W / 60W / 75W / 100W, 2-Pack (606014)
From the land of 10,000 lakes...and even more bugs! Look no further for a super-sized breakthrough in pest control technology. The Miracle LED Lovely Glow Yellow LED Bug Light combines time-tested bug light design with our cutting edge LED technology in a convenient and money-saving 2-Pack. Bring Chemical Free Pest Control to your home today with this energy-saving LED bulb. The "mellow yellow" color from this bulb was specially selected to provide a Lovely Glow on any dark night without attracting bugs to your living and entertaining spaces. This light spectrum, Nearly Zero heat output, and No UV light all work together to light up your Porch, Patio or Deck without attracting bugs or other pests! Perfect for Busy Suburbs or Secluded Cabins alike. Light up your entryways, high peaks and porches for pennies a year and bring safety to your yard! Bugs and their primary food sources LOVE heat and UV light, so this bulb produces nothing but lovely yellow light. No street lamp appearance here either, as the light emitted from this bulb is invisible to bugs but beautiful to you and I. Get huge energy savings replacing 60W, 75, and even 100W with Miracle LED -- up to $51 a year off your energy bill by replacing just one 60W incandescent bulb! All this with our most affordable pricing produces big savings when buying this 2 pack. LED chip technology is safer and more efficient because it's manufactured with no mercury or lead, starts instantly and saves energy. Trust MiracleLED, as one of the pioneers of LED development, to provide safe and efficient bulbs. Non-dimmable, Technologically Advanced 3rd Generation Bug light maximizes effectiveness and quality. Standard E26 medium household base; 20,000 hour estimated lifespan; $0.84 Estimated annual energy cost.
Produces virtually No Heat -- Does not attract bugs or moths
Light up your driveway or yard and bring safety to your home for just Pennies a Year!
Specially Designed Yellow light with No UV is invisible to bugs but pleasing to humans
Save up to $66 Per Year replacing 60W or 75W Bulbs -- Standard E26 Base fits almost anywhere!
Now Brighter Than Ever to fully light your entryways and porches without disturbing the night's ambience