Miracle LED Almost Free Energy 100W Spectrum Grow Lite - Daylight ...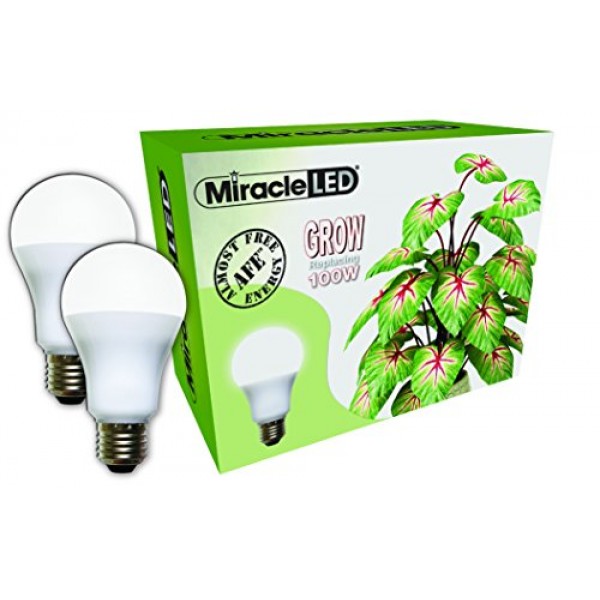 Miracle LED Almost Free Energy 100W Spectrum Grow Lite - Daylight White Full Spectrum LED Indoor Plant Growing Light Bulb for DIY Horticulture, Hydroponics, and Indoor Gardens (604301) 2Pack
The Miracle LED Almost Free Energy (AFE) full spectrum grow lite is a technological leap ahead for the indoor garden. Sipping only 9 watts of electricity, this green growing, full daylight spectrum LED replaces up to 100W old hot-running incandescent flood lights. Nearly zero heat output, Miracle LED bulbs live up to 10x longer than standard bulbs, excellent full spectrum light for maximum absorption. Contains no mercury & emits no UV. Chemical-free indoor growing is perfect for many different environments like small kitchen herb gardens, apartments with limited sunlight, or fruit and vegetable gardens in the basement. Images shown are for packaging and display purposes only. They are representative of the species or genus of plants that may be grown with artificial LED Light. Results vary by many factors and artificial lights do not fully replace light from the sun.
AFE (Almost Free Energy) certified for garden centers and greenhouses - buy what the pros use!
Full spectrum technology LED; white light that emulates daylight to give your plants the natural light they crave.
9W LED replacing 100W flood, massive energy savings!
1900 micromoles of growing power means more energy for your plants!
Runs for $1.08 per year with virtually no heat signature!