5 Pack Identify Diagnostics 12 Panel Drug Test Cup with BUP Testin...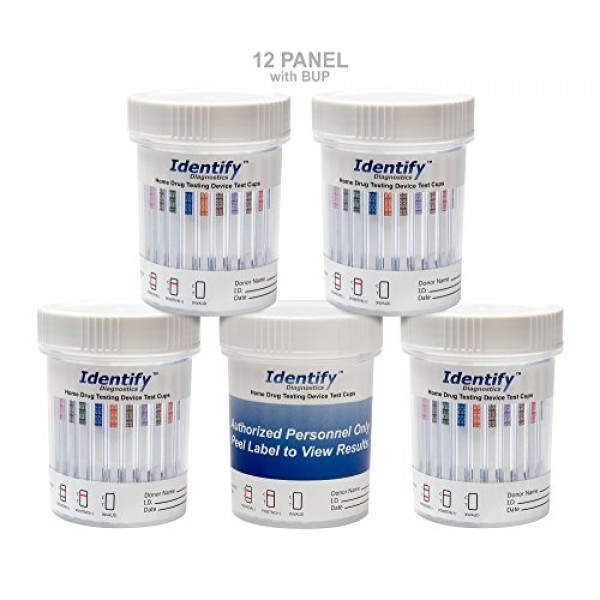 5 Pack Identify Diagnostics 12 Panel Drug Test Cup with BUP Testing Instantly for 12 Different Drugs: THC, COC, OXY, MDMA, BUP, MOP, AMP, BAR, BZO, MET, MTD, PCP #ID-CP12-BUP (5)
Identify Diagnostics 12 Panel Drug Testing Cup with BUP - Instantly Test for 12 Different Drugs.
Available in packs of 5, 10, 15, 25, 50, 100, or 200 cups. Buy more and save more.
The current expiration date for this drug test cup is on or better than:
AUGUST 31, 2019
Identify Diagnostics drug test cups were created with quality, accuracy, & price as key features. This 12 panel cup is one of several available versions trusted by medical professionals & home drug testers across the United States. These urine screening cups are FDA 510(k) Cleared, CLIA Waived, and Over The Counter (OTC) Cleared by the USA FDA having been held to a higher quality standard than non OTC cleared products. They also meet the SAMHSA standard for substance abuse urinalysis.
This 12 panel drug test cup detects the following drugs at the below FDA recommended cutoff levels in human urine:
THC - Marijuana 50 ng/mL
COC - Cocaine 300 ng/mL
OXY - Oxycodone 100 ng/mL
MDMA - Ecstasy 500 ng/mL
BUP - Buprenorphine 10 ng/mL
MOP - Opiates / Morphine 300 ng/mL (Six times lower than many other brands)
AMP - Amphetamines 1000 ng/mL
BAR - Barbiturates 300 ng/mL
BZO - Benzodiazepines 300 ng/mL
MET - Methamphetamines 1000 ng/mL
MTD - Methadone 300 ng/mL
PCP - Phencyclidine 25 ng/mL
Please Note: Occasionally a faint test line (T Line) may appear. Even a faint T line is considered a negative test result. Faint lines do occur from time to time throughout the instant drug test industry. The brightness of a T line can vary due to factors such as: protein levels, acidity, dilution, and specific gravity levels of a urine sample.
FDA 510(k) Cleared for OTC (Over The Counter) use at home and also CLIA Waived for medical professional use. Buy more & save on price per cup. Choose: 5, 10, 15, 25, 50, 75, 100, 125, 150, 175, or 200 cups.
Over 99% accuracy in detecting drugs according to the listed cutoff levels. Drugs Tested: Marijuana (THC), Cocaine (COC), Oxycodone (OXY), Ecstasy (MDMA), Buprenorphine (BUP),
Morphine / Opiates (MOP), Amphetamines (AMP), Barbiturates (BAR), Benzodiazepines (BZO), Methamphetamines (MET), Methadone (MTD), Phencyclidine (PCP).
Remove cap with seal, collect urine and read results. 2 lines appear if negative, 1 line if positive. NOTE: A very faint T line indicates a negative result.
These drug test kits are ideal for home testing, office, schools, pain management, family practice, internal medicine, hospitals, and more.