Lower Your Blood Pressure in Eight Weeks: A Revolutionary Program ...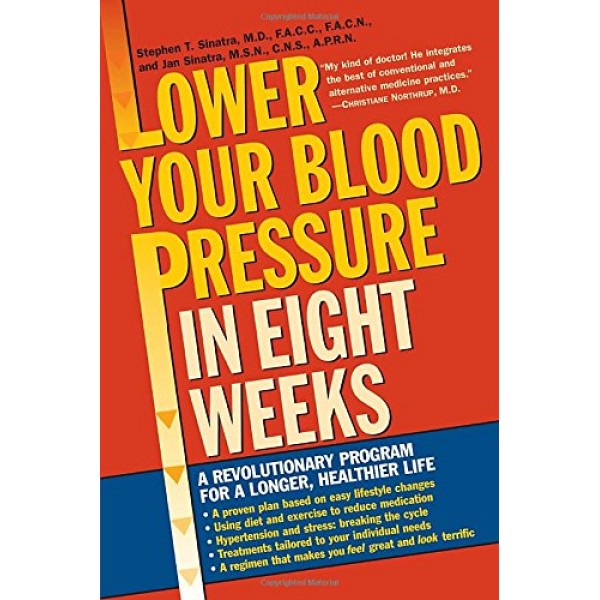 The numbers speak for themselves. More than 50 million Americans suffer from high blood pressure—and yet despite the billions we spend on medication, the death rate from high blood pressure has risen 36 percent in the past decade. Clearly, the time has come for a radical new treatment plan. And that's exactly what Dr. Stephen T. Sinatra delivers in this invaluable new book.
All too often people with high blood pressure get the same frustrating advice from their doctors: lose some weight, lay off the salt, and fill a bunch of prescriptions. One of the nation's leading authorities on cardiovascular disease, Dr. Sinatra offers a different approach. Through an eight week plan that takes into account your lifestyle, medical history, and special needs, this book will dramatically lower your blood pressure while at the same time reducing or even eliminating your need for medications. Inside you will discover
• How to diagnose high blood pressure and get the help you need fast
• A meal-by-meal diet plan you can start following today
• The relationship between hypertension, cholesterol, heart disease, and stroke
• The special risk factors for women, the elderly, and African Americans
• Easy, enjoyable exercises you can make part of your daily routine
• How dietary supplements work and which ones are best for you
• Which medications to use—and which to avoid
• Finding the stress-reduction program that works for you
Clearly written, user friendly, grounded in science and common sense, and full of inspiring case histories and delicious recipes,
Lower Your Blood Pressure in Eight Weeks
is the one book that deals with
all
the factors involved in hypertension. This program has worked wonders with hundreds of Dr. Sinatra's patients. Now it will do the same for you!
The First Biosensor to train you to manage everyday stress
Accurate scientifically proven stress measurement
Light,portable design
Developed with Stress Experts