Life Miracle LiquiVive - 32oz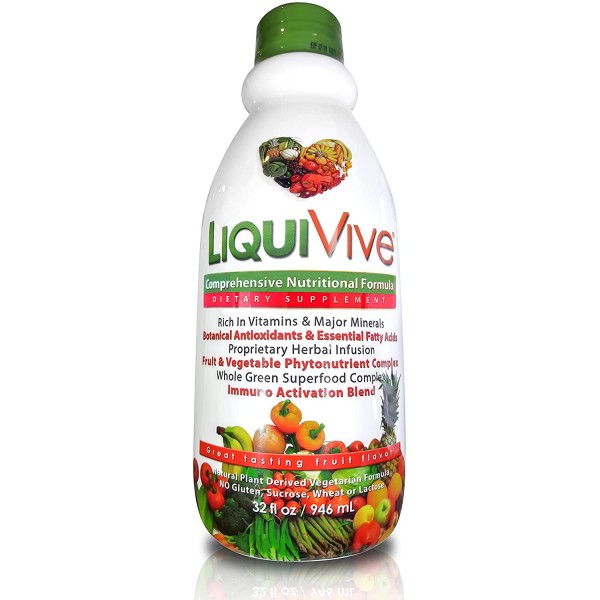 The bottle contains 32 fl.oz.
One Bottle = $41.99, Including shipping
4 Bottle Super Pack = $32.95 each, including shipping
12 Bottles Full Case = $26.95 each, including shipping
Safety Information
CAUTION: keep out of reach of children. Pregnant or nursing mothers and those on medication should consult with your healthcare professional before using any nutritional supplement. Do not take more than one serving daily. Not intended as a sole source of nutrition. As with any supplement, if adverse effects are experienced, discontinue use immediately and contact a healthcare professional. Before purchasing, please read the ingredients to see if there is something in it that does not usually agree with you, and particularly if you have a sensitive stomach. LiquiVive is a concentrated nutritional product with 100+ ingredients including vitamins, minerals, superfoods, herbals, whole foods, and other natural ingredients. Many people are not used to taking this amount of concentrated nutrition at once, so if you have a sensitive stomach, you should not take this product. Furthermore, this product contains cayenne and clove. These ingredients are powerful antioxidants with a high ORAC score, but they are also spices that may cause discomfort for people sensitive to spicy ingredients. Before taking the product, if you are on any medications, contact your health professional and ask if there would be any contraindications with what you are already taking.
Ingredients
COMPREHENSIVE VITAMIN COMPLEX: Vitamin C (from ascorbic acid and rosehips) 150 mg | Vitamin K (phytonadione) 80 mcg | Vitamin A 10000 IU | Vitamin D (cholecalciferol) 400 IU | Vitamin E (d-a-tocopheryl acetate) 30 IU | B-VITAMINS COMPLEX: Vitamin B1 (thiamine) 6 mg | Vitamin B2 (riboflavin) 4.25 mg | Vitamin B3 (niacinamide) 20 mg | Vitamin B5 (pantothenic acid) 10 mg | Vitamin B6 (pyridoxine HCL) 5 mg | Vitamin B12 (cyanocobalamin) 100mcg | Folic Acid 400 mcg | Biotin 225 mcg | ESSENTIAL MACRO MINERALS: Zinc (sulfate) 15 mg | Magnesium (sulfate) 25 mg | Copper 2 mg | Manganese 3 mg | Potassium (citrate) 100 mg | Silica (horsetail extract) 30 mg | ESSENTIAL MICRO MINERALS: Selenium (chelate) 70 mcg | Chromium (polynicotinate) 60 mcg | LIPOTROPIC FACTORS: Choline Bitartrate 100 mg | Inositol 50 mg | Dimethylglycine 3000 mcg | Proprietary Comprehensive Nutrient Blend: 960 mg [Includes Lipid Ingredients, Immuno Activation Blend, Whole Superfood Green Complex, Botanical Antioxidants Complex, Proprietary Herbal Fusion, Fruit and Vegetable Phytonutrient Complex] | OTHER INGREDIENTS: Filtered Water, Natural Crystalline Fructose, Vegetable Glycerin, Natural Flavors, Citric Acid, Xanthan Gum, Potassium Sorbate, Orange Extract.
Directions
Suggested Use: Shake well. Take 2 tablespoons (1 ounce) daily. Preferably take with food. Take it directly, or mix with water or juice. Storage: store in a cool dry place. Protect from heat, sunlight and moisture. For optimal freshness, refrigerate after opening and finish within three months. Do not use if inner seal is broken.
Legal Disclaimer
THESE STATEMENTS HAVE NOT BEEN EVALUATED BY THE FOOD AND DRUG ADMINISTRATION. THIS PRODUCT IS NOT INTENDED TO DIAGNOSE, TREAT, CURE, OR PREVENT ANY DISEASE.
Statements regarding dietary supplements have not been evaluated by the FDA and are not intended to diagnose, treat, cure, or prevent any disease or health condition.
Item No LM-003