Lewisia 10W Solar Water Pump Kit with Mushroom and Blossom Spray H...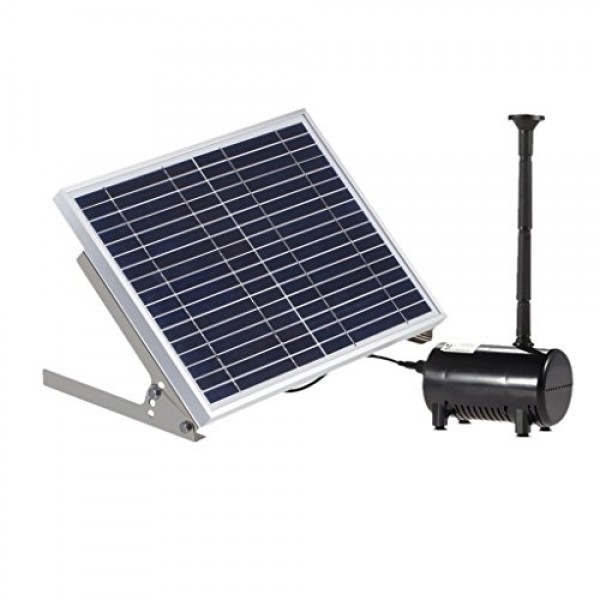 Lewisia 10W Solar Water Pump Kit with Mushroom and Blossom Spray Heads for DIY Pond Water Feature Pool Garden Patio Hydroponics Aquaculture Bird Bath Solar Power Fountain Pump
Spice up your back yard garden area with Lewisia Solar Water Fountain. Start hearing the calming sound of running water in just minutes, create your very own tranquil paradise.
Great for pool, pond, big bird bath, fish tank, garden decoration, water circulation for oxygen, etc.
Specification:
Solar panel: 17V/10W
Brushless pump input: DC 6-24V
Maximum water flowing: 357GPH
Maximum lift height: 26ft/8m (Lift height is a max height the water goes up, after connecting the water pipe to the nozzle)
Maximum water height: 6.5ft/2m
Cable length: 16.4 feet (5m)
Solar Panel Size: 13.4" x 10.2" x 7.1"
Water Pump Size: 3.95" L x 2.6" H
Net weight: 3.86lb/1.75kg
Package:
1 * Solar Panel
1 * Water Pump with Power Wire
6 * Water Outlet Caps
10 * Accessories
4 * Sleeve Anchors
8 * Screws
8 * Nuts (6 Normal Nuts+2 Wing Nuts)
1 * Filter Bag
1 * User Manual
Note:
1. It's better to peel off the plastic film protector on the solar panle.
2. Make sure that you submerge the solar pump in water before you expose it to sunlight because it turns on IMMEDIATELY with CONSTANT, DIRECT sunlight.
3. Sensitive to light, shadows, clouds. The more sunshine the more power it gives off. On a very cloudy day, there may be little to no water coming out, because this has no battery or form of external power.
4. Clean the pump regularly. If it's clogged, it will stop working.
5. The pump itself is not adjustable but with the attachments you can adjust the spout height and shape.
10W LARGE Solar Collector --- A higher wattage rating than the other solar pond pumps, put out more energy to make the water flow and circulate
Unique Spray Water Patterns --- Interchangeable fountain heads ( Mushroom or Blossom or others) are great to customize the water patterns it creates
Longer Cable Length --- 16.4 feet (5m) cord from the pump to the solar panel so it would get sun most of the day. You can have the fountain in the shade but the panel in the sun.
Filter Bag Included --- To avoid the pump getting blocked with dirt
Metal Bracket --- 2 Ways to Install the Solar Panel: Stand on the ground or mount on the wall with included screws