LEDwholesalers 51-LED 395nm Ultra Violet Blacklight UV Flashlight ...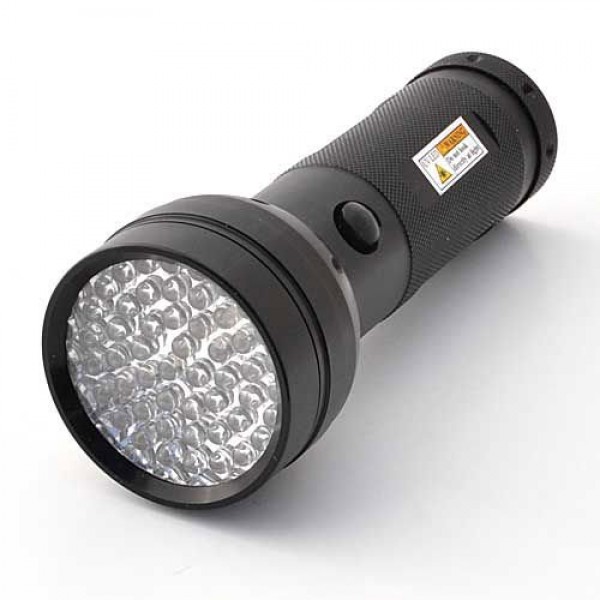 LEDwholesalers 51-LED 395nm Ultra Violet Blacklight UV Flashlight 3xAA, 7202UV395
This large UV flashlight with 51 UV LEDs allows you to cover a much bigger area without losing the intensity of the UV light. The applications is perfect for inspection applications, security control, rodent contamination, hotel room inspection, and much more. Emits 395 nanometer wavelength 51 UV LED allow to cover a larger area. Makes semen stains and other bodily fluids fluoresce! Perfect for outside use such as hunting scorpions and minerals! Water and shock resistant! Perfect for leak detection (when used with UV dye)! Rugged, machined aluminum construction with knurled design! Due to the intensity of this UV LED device UV protective glasses are recommended. Do not look into this device while operating nor shine in any person's eyes.
Specifications
Bulb Type: LED 390 to 395nm
Bulb Life: 100,000 hrs
Body Material: aluminum with O rings for water resistance
Battery Require: 3 x AA alkaline batteries (not included)
Battery Life: approximately 20 hours on 3 AA batteries
Switch Type: push On/Off button
Weight: 10 oz. 285g (with batteries)
Head Diameter: 2.25 or 57mm
Body Diameter: 1.42 or 36mm
Length: 5.80 or 147mm
WARNING:
Do NOT attempt to remove the head unit of this flashlight!
Emits 395 nanometer wavelength, hunting scorpions and minerals
Hotel room inspection, rodent contamination
Essential tool for law enforcement, postal inspections, customs, medical forensics, HVAC repair
51 UV LED bulbs allow to cover a larger area
Uses 3 AA standard alkaline batteries