LED Grow Light, 45W Plant Light for Indoor Plants, Sunlike Full Sp...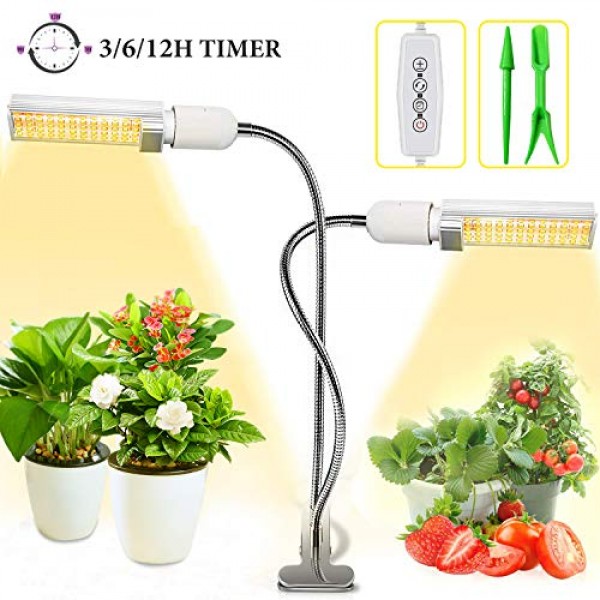 LED Grow Light, 45W Plant Light for Indoor Plants, Sunlike Full Spectrum Grow Lamp for Succulent, Bonsai, Hydroponics Growing, with Auto ON/Off Timer, 3/6/12H Timing, 5 Dimmable Levels
cfl grow light grow light bulbs for indoor plants led grow light full spectrum plant light for indoor house plants best grow light led grow lights for indoor plants full spectrum grow lights for seedlings grow lights for indoor plants full spectrum mini grow light uv plant light indoor grow lighting white led grow light plant led grow light grow lights for succulents
2019 Upgrade Full Spectrum Plant Light Unlike ordinary red and blue grow light lamps, our full spectrum led grow lights are suitable for almost all types of indoor plants. Our indoor plant grow lights adopt advanced 88pcs LED chips, provide a full spectrum of 380nm-800nm, similar to sun-light, which promotes photosynthesis and growth, and suitable for all stages of plant growth. This LED full spectrum grow light is the newest trend for helping indoor plants growing.
Auto On/Off Every Day No more manual operations. Our LED plant lights adopt upgraded two-way memory timing function, and 3H / 6H /12H timer setting options. Set it once according to your plants' needs, the led plant grow lights will automatically turn on and off every day! No need to worry about your plants anymore when you are out or working. They are still able to enjoy the light and keep growing.
More Lighting Options The 45W indoor grow light has aviation aluminum heat conductive material effectively accelerate the heat dissipation speed, extend the service life of the LED lamp.There are five levels of dimmable lighting(20%, 40%, 60%, 80%, 100%), you can adjust the brightness according to different stages of plant growth. Each grow light bulb can individually control the switch, there are 3 modes (A side light on, B side light on, both side lights on).
Wider Illumination Area Our plant grow lights equipped with 270°rotatable bulb and dual head 360-degree flexible stainless steel gooseneck that can easily adjust the angle and distance between light and plants. 3inch mouth wide clip suitable for most tables, desk and furniture board. Combine with 61-inch wire allow you to place your led plant light for indoor plants anywhere.
Lucky Star for Your Plants Our LED grow lamps widely apply to succulents, bonsai, various flowers and vegetables, such as orchids, eggplant, tomatoes, grapes, lettuce. Note: the light is very bright, please don't stare at it for a long time, we suggest wearing sunglasses when you are under the light. If you have any questions about our products, feel free to contact us via Amazon's messages. Our desk plant lights are backed by a 365 days' warranty plus a 30-day return guarantee.