LED Strip Lights, 32.8ft RGB LED Light Strip 5050 LED Tape Lights,...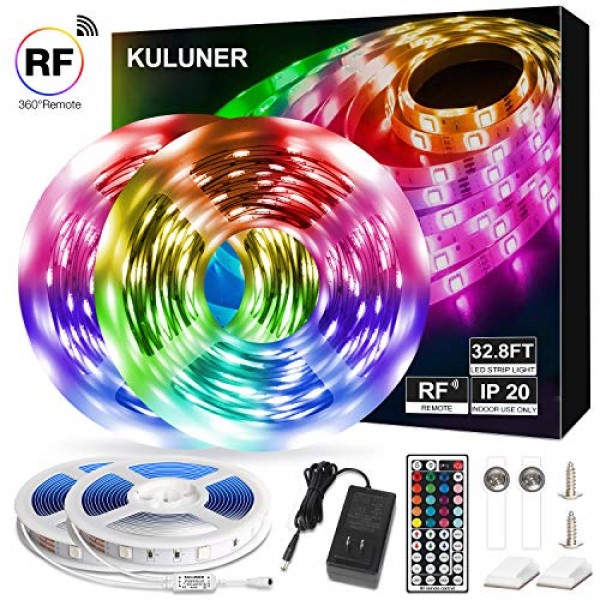 LED Strip Lights, 32.8ft RGB LED Light Strip 5050 LED Tape Lights, Color Changing LED Strip Lights with RFRemote for Home Lighting Kitchen Bed Flexible Strip Lights for Bar Home Decoration
FEATURESUL Listed Power Supply
The power supply is made of expensive materials and tested by rigorous,high standards. High-quality circuit board with short circuit protection.
Safe and Reliable
Continuous length,packed with 10 meters.Long life span 50,000+ hours and Low power consumption. Run on DC12v.
Easy to Use
The lights tape on the back come with a strong adhesive, can be stick to anywhere you want to place. You also can reinforce the strip by extra 10 pcs mounting bracket with screws.
PACKAGE INCLUDED
1 x LED Strips
1 x 44 Key RF Remote Controller
1 x Wireless Sensor Controller
1 x Power Supply
10 x Sticky Tapes
10 x Mounting Bracket with Screws
1 x User Manual
TIPS
If you have bought multiple sets of light strips and want to control one light strip independently, please use the match code function.
For the matching of one remote control with one light strip, please do as follows:
①Please press the two buttons of the remote together( below the R and B buttons, button colors are orange and light blue).
②The light strip will flash white which means to get into the pairing mode. The light strip is only matched with this remote control now.
Please note:
1. Only turn on one set of light strips and make sure other sets are plug off. Or other light strips would be coded together.
2. You can't decode after matching, please handle with care.APPLICATION
Widely used in homes, hotels, clubs, shopping malls.
Festivals, events, exhibitions.
Amusement parks, theaters and aircraft cabins. Mood lighting.
Suitable for car, ship and bicycle decoration, the wine cabinet decoration.
DIY DECORATION.DO WHATEVER YOU WANT!
Super Features Our LED's have more functions that are stronger than other strip LED brands. Upgraded 44 Key RF Wireless Remote Controller, it can be used 360°. No need to target the sensor, control distance up to 15-30m. Strong signal even penetrates walls and doors and cabinet, which to remote control the LED strips. The light strip can be hidden installation, more sensitive, accurate and longer control distance than the IR infrared remote control.
Unique RF Remote Our 44 Key RF Wireless Remote Controller with Dimmable Timer Function. The unique three timing settings are 1H /2H /3H. Preset the time to switch lights on/off automatically, helping you control time and save energy. The timing function allows you to run your home light system in a smart way. You also can adjust brightness with dimmable function, make DIY lighting more convenient.
Easy Installation & Use One-step installation: The perfect combination of unique wireless sensor controller and LED Strip, Easy to hide, plug and use. Unlike the old pin-to-pin complicated connection one, much more convenient installation brings you better using experience. Say goodbye to traditional big controllers! We have a stronger 3M adhesive, just clean - stick on -connect. You also can reinforce the strip by extra 10 pcs mounting bracket with screws.
Multiple Color & Multiperpose Ultra bright and high-quality LED chip allows the LED lights to be very colorful and durable. KULUNER strip lights provide the primary Red, Green, Blue (RGB) and white,16 multicolored options, and also you can select a solid color that stays on. 8 Light Modes, 3 DIY Keys can create romantic or energetic ambiance. Great for Holidays and Events like Christmas, Halloween, Parties and more. It is a great gift for your family and friends.Not waterproof, indoor use only.
Safe to Use& Warranty CE RoHS UL certification, safe to use the working voltage is 12V. Extremely low heat, the power supply is under safe value for adults and kids. Support 90 Days 100% Satisfaction Guarantee and 1 Year Warranty. Our friendly customer service always stands behind our product and reply all email within 24 hours.