Kolem Dimmable 800W LED Grow Light, Sunlike Full Spectrum Big Refl...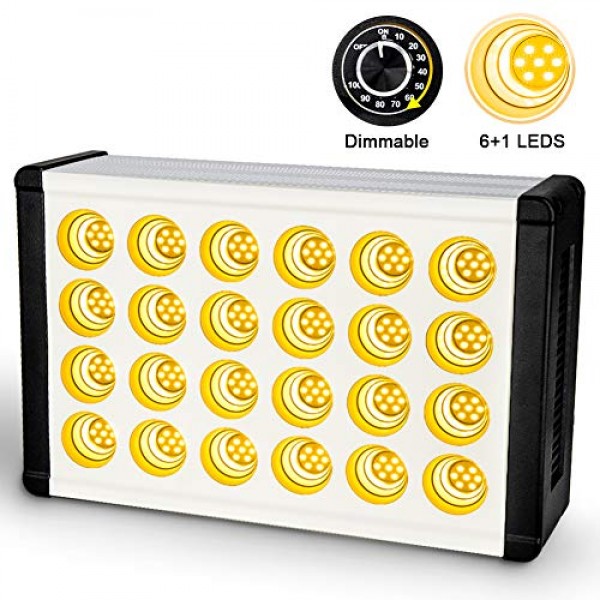 Kolem Dimmable 800W LED Grow Light, Sunlike Full Spectrum Big Reflector Cup Plant Light for Indoor Plants Veg and Flower Seedlings Blooming Fruiting, with Daisy Chain Function
Kolem Full Spectrum LED Grow Light, Good Choice for Indoor Plants.
Full Spectrum: 380nm-800nm, sunlike light, suitable for all your plants indoor.
Stepless Dimmable: Adjust the brightness of the plant light according to the growth stage of the plants.
Noise Free: The fans will automatically work with little noise when the temperature of plant light is over 113℉.
Easy to Install: Hang the LED plant light with hook included.
Daisy-Chain Function: You can use the three lamps together with one outlet.
Benefits you will get: Help your plants growing healthily, Shorten the growth circle, Increase the production.
Specifications
Spectrum:Full Spectrum
Wavelength: 380nm-800nm
Life span: 50,000 hours
Input Voltage: 110v-240v
Lighting Power: 800W
Power Consumption: 150W±5%
LED Quantity: 168 (24*7LEDs)
Working Temperature: -20°C to 50°C(-4°F to 122°F )
Dimension: 12.2*7.9*3 inch(30.98*20.06*7.62cm)
Net Weight:2000g/4.4lb
Packaging includes
1* Led Grow Light
1* Power Cord
1* Hanging Kit
1* User Manual

NOTE
1.Indoor use only. NOT waterproof.
2. Don't look at the lamp directly.
3.Don't look directly at the LED bulbs when the light is on, as the light is extremely bright.
► WHY CHOOSE US but not other red&blue spectrum pink light? - The combination of red and blue light produces radiation that is harmful to humans. We truly offer a "Sunlike" full spectrum contains all wavelengths of light from 380nm to 800nm, delivers more highly-uniform light needed by plants than those single red and blue spectrum led grow light on the market, the most top lighting solution for commercial growers and home hobbyists
► Kolem Newest Grow Light- Different from the other full spectrum grow lights, Kolem 800W grow lamp with 24 unique BIG REFLECTIVE CUP& 168PCS 5W LED CHIPS. 3500K color temperature makes your eyes feel comfortable & suitable for planting plants in any indoor application. . It works extremely well for your plant grow tents, plant grow shelves, seedling cultivation, succulents, hydroponic rooms, greenhouses, etc. Max 3.5g yield per wattage (power draw)
► High Yiled & Less Cost - Consuming only 157W with the highest PAR/LUMEN output(612umol@18")! It saves up to 53% energy than other led grow lights. Perfect for 3x3ft,Max coverage 4x4ft. Over 97.8% of light energy can be absorbed by plants
► Low Heat Emission & Daisy Chain - The power cord is double used for power and daisy chain, great for you to simplify growing operation and management, link more grow lights while using one wall outlet only. We suggest max 5pcs the same power LED grow light in the daisy chain, and please also note the most current used in your house. Besides, equipped with 2 quiet fans, the heat will be dissipated quickly so as to ensure the Kolem LED grow light's long lifespan
► Quality Materials & Local Service - Kolem grow light build with fire-retardant UL94V-0 & has CE/ROHS/FCC certified. 36 months warranty plus 30 days of money-back guarantee. Kolem Local customer center in California. If you have any needs, please contact us at any time