Koicaxy Grow Light for Indoor Plants, Full Spectrum Plant Grow Lig...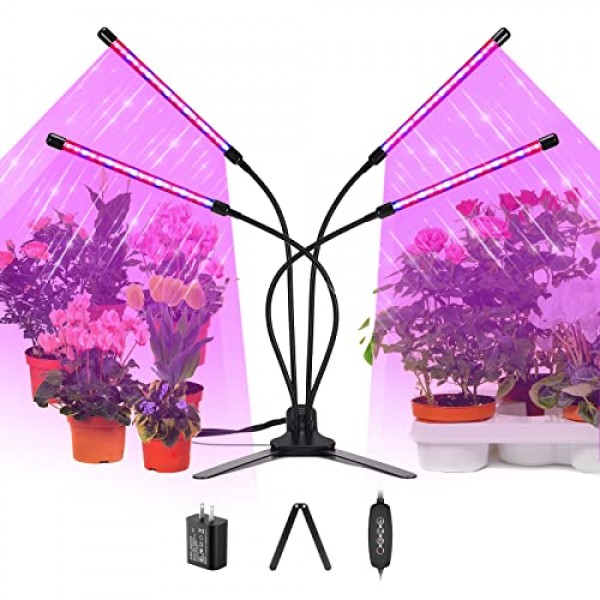 Koicaxy Grow Light for Indoor Plants, Full Spectrum Plant Grow Light with Adapter and Stabilizer, 3 Modes Standing Grow Lamp Strip for Greenhouse Plants Flowers Veg Succulents Potted Growth
★【360° All-around Full Spectrum Light】Koicaxy plant grow light 4 light stripes and 360°goose necks, making every plant on the desk covered by 360° surround light, helping your plants to promote photosynthesis whenever needed. With a full spectrum 460nm~660nm wavelength range, growing light w/ timer for growth tent can meet the growing needs of various plants.
★【Standing Plant Grow Light with Stabilizer】Our grow light have a stabilizer, make it stand stably on a plane, better to grow more plants. With the stabilizer, Koicaxy plant grow light for hydroponics has more ways of placement than other plant grow light and can be placed in the middle of your plant without clamping, to provide 360° lighting. And it has strong anti-slip clip, the light can be fixed anywhere.
★【More Reliable Adapter & 3 Modes】Koicaxy grow lamp comes with a UL-certified adapter, safe and useful. 4 heads plant lights for covers all stages of plant growth, 9 Dimmable levels to suit each stage of plant growth, 3 modes: 1. The Blue spectrum promotes chlorophyll synthesis and growth of green leaves. 2. The Red spectrum promotes plant flowering and fruit. 3. The Red and blue combo spectrum save your small roots and yellow leaves.
★【Customized Control Device for Americans】Koicaxy grow light control device is larger than the market generally, the operation feel is better and user-friendly. We have thickened and improved the quality of the plant lights wire , so that it has longer service life. Our grow light offer 3/6/12h auto turn on/off function, which can avoid plants from being affected by excessive or insufficient light. You can adjust the lighting time and interval time according to your plants' growth needs.
★【Service & Guarantee】The user's feelings are what we care about most. Koicaxy offer 24 hours customer support, 60-day money back, 365 days warranty. We are here to help: If it doesn't work out for you for any reason, please feel free to contact us on Amazon, we will get back to you in 24 hours to make your experience as hassle-free as possible.