DALSTRONG - Santoku Knife - 7 - Frost Fire Series - High Chromium...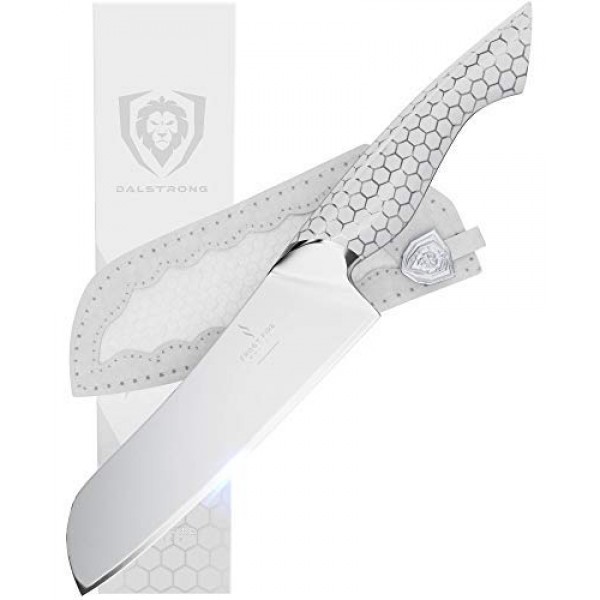 DALSTRONG - Santoku Knife - 7" - Frost Fire Series - High Chromium 10CR15MOV Stainless Steel - Frosted Sandblast Finish - White Honeycomb Handle - Leather Sheath
The Dalstrong Frost Fire Series is an elegant collection of premium light-weight, razor-sharp knives with an icy cold look and fiery performance. Built for the modern chef who appreciates meticulously crafted, professional knives that look good and feel good, without any sacrifices to functionality.
The Frost Fire Series 7" Santoku Knife was thoughtfully designed to increase agility in the kitchen with it's lightweight, quick grip build. The Santoku is your slicing, dicing and mincing master, with a straight blade-edge profile, making this knife a push-cut master. A fusion between a chef's knife and a vegetable cleaver, the Frost Fire Series Santoku offers the benefits of both.
Expertly engineered from 7-layer, high-carbon, high-chromium 10CR15MOV stainless steel with added cobalt, these knives undergo an expert heat treatment to further increase blade hardness for scalpel-like sharpness. Each knife is perfected with a precision-based sandblast for a frosted blade finish that enhances non-stick properties and offers superior refinement.
Beautifully finished with a slender, ergonomic handle for a tension-free grip, the Frost Fire Series offers ultimate comfort and cutting agility. For added distinction, the pristine white resin handle is enclosed in aluminum mesh that provides improved durability and a stylish honeycomb finish. Included with each knife is a PU leather sheath with snap closure, designed to protect your knife and keep it safe and secure while on the go.
Dalstrong Trust: The most essential knife and perfect gift for home cooks, bakers, pastry chef's and more. Rocksolid 100% SATISFACTION OR MONEY BACK GUARANTEE, try it risk free. LIFETIME WARRANTY against defect. Renowned Dalstrong customer service. See why chef's around the world trust and love, 'The Dalstrong Difference'. Dalstrong luxury packaging. Now you are slicing with POWER. Dalstrong POWER!