Kidde 468041 Potter Roemer Surface-Mount 5-Pound Fire Extinguisher...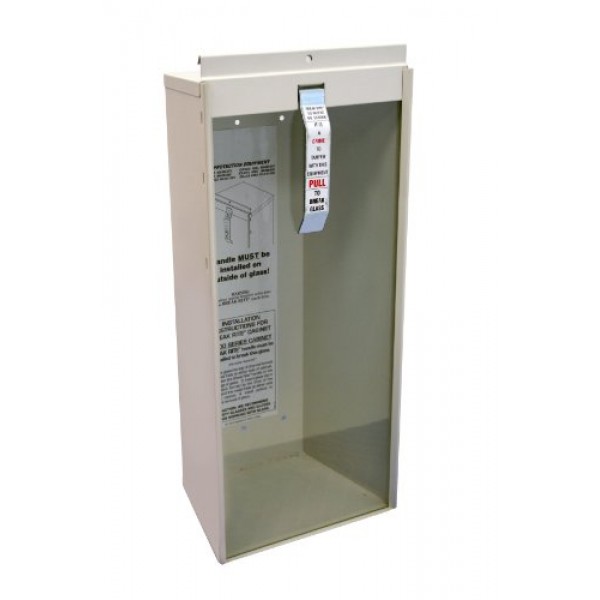 Designed for use with a 5-pound dry-chemical fire extinguisher, the Kidde 468041 Surface-Mount 5-Pound Fire Extinguisher Cabinet keeps your extinguisher easily accessible in case of an emergency. Due to its compact size and durable construction, this cabinet is ideal for apartments, condos, and small businesses, and it provides a safe, secure place for long-term storage.
468041 5-Pound
Fire Extinguisher Cabinet
At a Glance:
Protects 5-pound dry chemical extinguisher from tampering
Compact design ideal for apartments, condos, and businesses
Heavy-gauge, galvanized-steel construction for longer life
Tempered safety glass front cover won't shatter
Includes patented Break Rite non-removable handle
Cabinet mounts easily on the wall, so you can keep a fire extinguisher nearby and ready to go when it's needed most.
View larger.
Fire Extinguisher Cabinet Helps You Stay Prepared
In case of a sudden home or business fire, you may have only a few seconds to get things under control. You don't want to waste precious time searching for your extinguisher, or worse, finding it only to discover that it has been tampered with or is no longer usable. The 468041 Cabinet prevents these potential problems by providing a designated place for your extinguisher, keeping it nearby and ready to go when it's needed most.
Compact Design; Heavy-Duty Steel Construction
Made of heavy-gauge, galvanized steel that won't chip, peel, or flake like enamel, this cabinet measures a compact 6.0 x 18.0 x 6.0 inches (W x H x D) and mounts easily on a wall, so it's protected from tampering and easy to find when needed.
Tempered Glass for Safety; Re-Coatable Finish for Longer Life
Whether you keep your extinguisher in a busy home kitchen, office, or retail space, safety demands that it be stored behind a screen that can hold up to both an emergency situation and accidental breakage. The 468041 Cabinet features tempered safety glass--a safer alternative to standard plate glass because it will not shatter. For additional durability, this cabinet features an electrostatically applied, thermally fused, re-coatable finish, and a vandal-resistant assembly with padlock option.
And because every second counts in an emergency, the 468041 Cabinet includes a patented Break Rite non-removable handle, which eliminates the need for a hammer or breaker bar.
About Kidde: A UTC Fire and Security Brand
Renowned for global leadership in fire detection and suppression, Kidde provides solutions ranging from portable fire extinguishers to advanced industrial controls such as flame detection and explosion suppression systems. Kidde is a UTC Fire and Security brand, with a history that's rich with innovations, from the patent of the Chubb Detector Lock in 1818 to the development of the world's first wireless networked smoke detectors in 2004.
What's in the Box
Kidde 468041 Surface-Mount 5-Pound Fire Extinguisher Cabinet (manufactured by Potter Roemer).
Surface-Mount Cabinets
Model
Inside Box W x H x D (Inches)
For Use with Extinguishers (Max Size)
468041
6 x 18 x 6
5-pound dry chemical
468042
6 x 23 x 7.5
10-pound dry chemical
468043
10 x 28 x 8
20-pound dry chemical
2.5-gallon water
Heavy gauge galvanized steel construction
Tempered safety glass far safer than standard plate glass during emergencies
Break Rite handle eliminates the need for hammer or breaker bar
Vandal resistant, unitized assembly with provision for optional padlock
Ideal for apartments, condos, gas stations, and strip malls