Kidde 442020 Radon Gas Detection Test Kit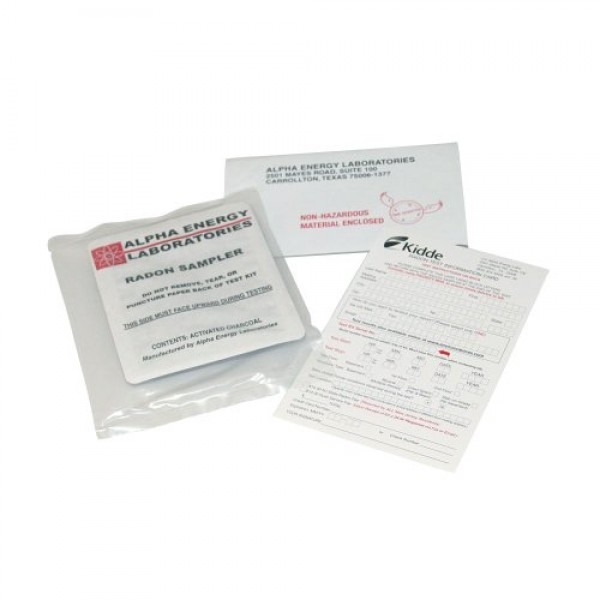 Kidde Radon Kit view larger
Kidde 442020 Radon Gas Detection Test Kit
Kidde's radon test kit analyzes the amount of radon, a carcinogen, in your home with an EPA-registered facility. Radon is estimated to cause thousands of lung cancer deaths in the U.S. each year and exposure to radon in the home is responsible for an estimated 20,000 lung cancer deaths each year. Radon is a health hazard with a simple solution.
How it works
Place the enclosed radon sampler bag in the test location for two to three days. Then mail the radon sampler bag to Alpha Energy Laboratories in the kit's self-addressed envelope. Test results are mailed back to you by the lab.
Analysis fee
Analysis included, no additional fees to pay except New Jersey residents EPA charges $10
What's in the box
Includes activated radon sampler tray and return mailer envelope for professional lab analysis
What is Radon?
Radon comes from the natural (radioactive) breakdown of uranium in soil, rock and water and gets into the air you breathe. Radon can be found all over the U.S. It can get into any type of building — homes, offices, and schools — and result in a high indoor radon level. But you and your family are most likely to get your greatest exposure at home, where you spend most of your time.
Radon detection kit at-a-glance
Mail in radon test kit and analysis for residential and general use
Professional analysis detects cancer-causing colorless tasteless radon gas seepage
Meets state and Environmental Protection Agency requirements