KETO-MOJO GK+ Bluetooth Glucose & Ketone Testing Kit + Free APP fo...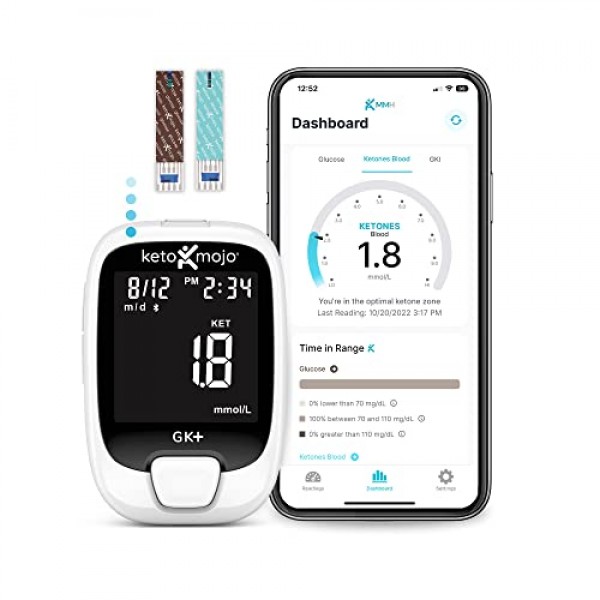 KETO-MOJO GK+ Bluetooth Glucose & Ketone Testing Kit + Free APP for Ketosis & Diabetes Management. 20 Blood Test Strips (10 Each), Meter, 20 Lancets, Lancing Device, and Control Solutions
NEXT GENERATION METER WITH THE MOST ADVANCED TECHNOLOGY including Bluetooth integration. Get results on your keto diet and manage your diabetes by testing for ketosis and blood sugar levels. This dual test kit for glucose & ketones gives you greater insight into your diet and what foods may adversely affect your results. Test, Don't Guess!
MORE THAN A METER - Your purchase comes with a free smartphone app where you can instantly sync your readings to your phone and track your ketones and glucose on other popular health apps. The app automatically calculates your Glucose Ketone Index (GKI), an important measure of metabolic health.
RECOMMENDED BY EXPERTS: Leading keto experts, healthcare professionals and researchers trust and recommend KETO-MOJO for accurate testing of ketosis and glucose monitoring. Our LIFETIME WARRANTY backs that up.
ENHANCED FEATURES include auto-coding, the largest memory with up to 1000 readings, individually foil wrapped strips for enhanced sterility and longevity, and control solutions for glucose and ketones.
RESOURCES TO HELP YOU LIVE A KETO LIFESTYLE - Keto-Mojo provides you with more than just testing strips. We provide you with all the information you need to be successful on your low-carb or keto journey. We help you understand keto basics, testing basics, food basics, and more. We provide hundreds of FREE articles, videos, and recipes!