Jump Rope, High Speed Skipping Rope Tangle-Free with Self-Locking ...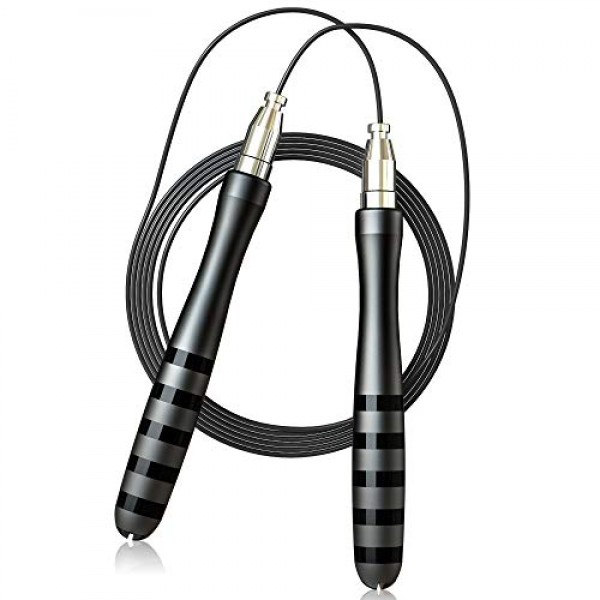 Jump Rope, High Speed Skipping Rope Tangle-Free with Self-Locking Screw-Free Design Weighted Non-Slip Handle with 2 Adjustable Rope Cables Workout for Fitness, Crossfit & Home Exercise
Faster and Smoother Premium grade 360-degree ball bearings? You are right. Our newest speed jump rope built-in with high-quality DOUBLE-BEARING SYSTEM, it ensures stable and fast rotation,tangle-free,which brings you smooth jump exercises, also provides the best fluency for elite fitness professionals. So you can make better progress, train harder, and break your goals in record time.
Self-Locking Exciting? Yes. With unique self-locking design, you can adjust the 10 feet long rope to suitable length just in seconds, without screws screwing it up! So the jump rope for fitness suitable for all people, no matter how tall you are, no matter how old you are, it will meet all your needs! It is just like a good partner for your friends, families who are interested in exercise and fitness.
PU Durable & Adjustable Rope We provide 2 steel cable cables,the crossfit jump rope speed rope is made of steel wires that are coated with wear-resistant PU material, which features durable and smooth, ensures the maximum service life and avoids cracking or breaking.✽NOTE: Please use the rope protector (included 2 pcs in the package), especially when you use the skipping rope outdoors.✽
Non-Slip Handle Our ergonomic handle is embedded with 5 silicone anti-skid rings, can minimize fatigue of your hands and ensure firm grip.The humanized design antislip handle not only to make you have a comfortable exercise experience, but also for your safe. It is a friendly crossfit skipping rope boxing jump rope.
Removable Weight Bar Awesome extras? You got it! More surprise, we also provide a pair of removable WEIGHTED-BAR, it can be installed in the handle to consume more your calories and exercise your arm , to let your extreme weighted jump rope workout jump ropes for home exercise achieve excellent training workout.