iPřiro Houseplants Automatic Watering System,Automated Watering De...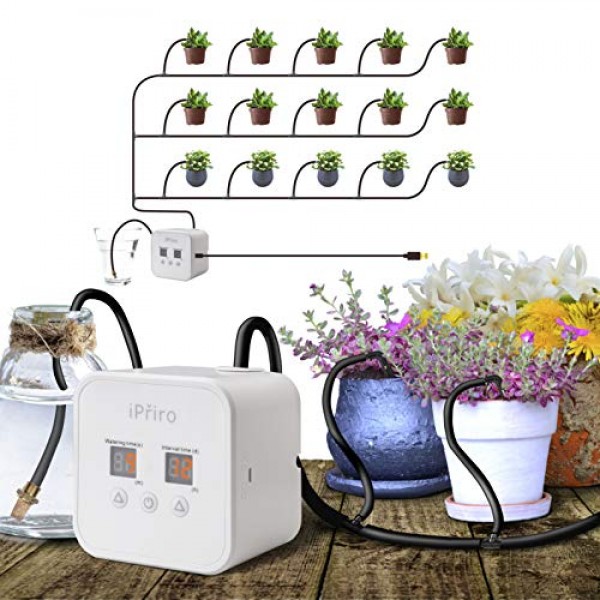 iPřiro Houseplants Automatic Watering System,Automated Watering Device with 30-Day Programmable Timer and 5V USB Charging Cable, for 15 Potted Plants Indoor
Why do you need an automatic watering system?
Do you often forget to take care of plants because of work?
Are you unable to take care of the plants because you are on vacation?
An automatic watering system! Make you more free and more convenient!
What is the use of automatic watering system?
1 More water saving: After professional testing, the automatic watering system saves 50% of water compared to the spray watering method, saving money!
2 More convenient: a variety of watering time and watering cycle settings, simple to set up, can be operated after setting. With a memory system, there is no need to reset after replacing the battery or disconnecting the USB. Battery and USB operation
3 More plants: can support 10-15 plants potted water supply, freely assemble water supply pipelines, build water supply network
4 More free: Help you to complete watering every day, solve the troubles of caring for plants, let you feel more at ease to work, and enjoy the holidays!
How to use automatic watering system?
1 Install the water supply pipe and drip tip of the automatic watering system according to your needs.
2 Set the watering cycle and watering time
3 Insert the dripping tip into the plant, connect the water source, and use it after startup.
(Installation and usage instructions can refer to the instruction manual)
Use attention
1 Place the equipment and water source at a height close to the plant to avoid siphoning
2 Please make sure that the spikes are deep into the soil. If the plants are large, please put a dripper to get enough water.
3 For your plant health, it is best to test the equipment before use.
4 Please connect USB for long time use to avoid battery power failure and cause damage to plants.
Support no reason to exchange or return
Timing Watering Device Combine the pump and watering timer in an automatic watering system to pump water from the container, saving 70% water compared to tra Power Upgrade New high-power pump, power upgrade 5 times. Provide at least 15 potted water supplies! Solve water pressure problems, strong water supply.Water supply of about 800 ml per minute ditional spray and plant irrigation dripper.
Timing Watering Device Combine the pump and watering timer in an automatic watering system to pump water from the container, saving 70% water compared to traditional spray and plant irrigation dripper.Help you to take care of plants during the working day, holiday
Two Types of Power Run the indoor plant irrigation system, with 4 AA batteries or USB connection power. When the battery and USB power supply exist at the same time, the system will give priority to USB charger power .Simultaneous use can prevent power outages.(Power Not Included).
Program Memory :Once programmed, the settings are stored in internal memory automatically. Custom programming and settings will remain in memory even if power is removed. There will be no need to reprogram the timer every time batteries are changed.
Package Includes : Device, 32ft Hose, Irrigation Drippers(15 pcs), Three-way joint(14 pcs), Four-way joint(2 pcs),Filter(1 pcs),Usb wire and Manual book. Your satisfaction is our top priority,