iPower GLROPEX6 6-Pair 1/8 Inch 8-Feet Long Heavy Duty Adjustable ...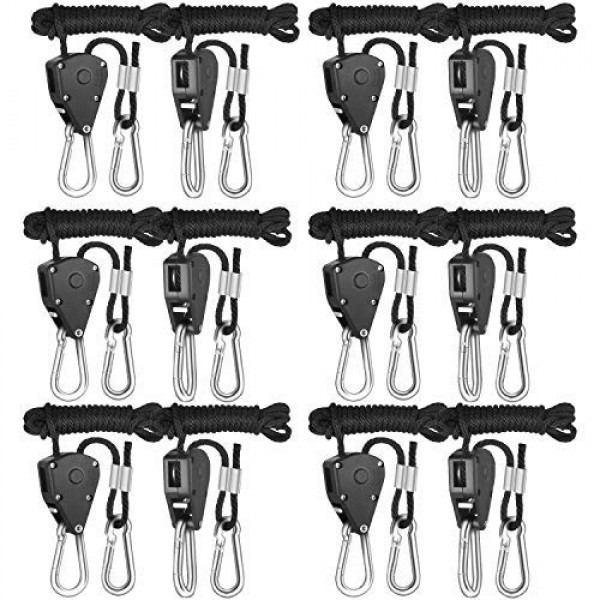 iPower GLROPEX6 6-Pair 1/8 Inch 8-Feet Long Heavy Duty Adjustable Rope Clip Hanger (150lbs Weight Capacity) Reinforced Metal Internal Gears
iPower Grow Lights Adjustable Ratchet Hangers:
This reflector suspension system enables you to raise and lower the light in one simple movement. With tension mechanism, the hood will stay in place once set at the desired height. Easily raise your lights when you are doing your routine work in the room, and just pull them down when you leave. It also perfectly meets the requirement of adjusting the hood to provide different light supply as plants grow.

Features:
Heavy duty locking mechanism;
1/8" Nylon rope;
Two metal hoods;
One release clip to unlock the rope;
To provide reliable support & befitting distance from plants with tension mechanism;
Up to 150 lbs weight load capacity per pair;
Compatible with all parabolic and round reflectors, so long as hooks and eyebolts suit;
Length: 8 feet;

Attaching the Ratchet:
There are two ways of installing the Light Hanger: with the mechanism attached to the ceiling. If you use the Light Hanger for luminaries in a grow tent we recommend that you install the Light Hanger with the free end carabiner to the ceiling frame and the mechanism to the luminary as illustrated. This way, you will not put any stress on your tent frame when hoisting and it enables easier adjustment. For filters, we recommend that you attach the free end with the carabiner around the filter to avoid rotation of the filter when hoisting. Support the filter when hoisting it to avoid stress on your grow tent frame.

Height Adjustment:
Adjust to the desired height by simply pulling the loose rope end. To release, hold the loose rope end and depress the lever recessed in the Light Hanger.
Pair of 1/8" Heavy Duty Rope Hanger
Up to 75-pound weight load capacity per ratchet; a pair can handle 150-pounds
Rope Length -8 Feet. 4 easy-to-use carabiner clips
Rope Material - Braided Polypropylen. Hook Material - Zinc Plated Steel / Metal Internal Gears
Fully adjustable and locking; tear & rust resistant; for multipurpose use