iPower 24 Hour Plug-in Mechanical Electric Outlet Timers Switch Pr...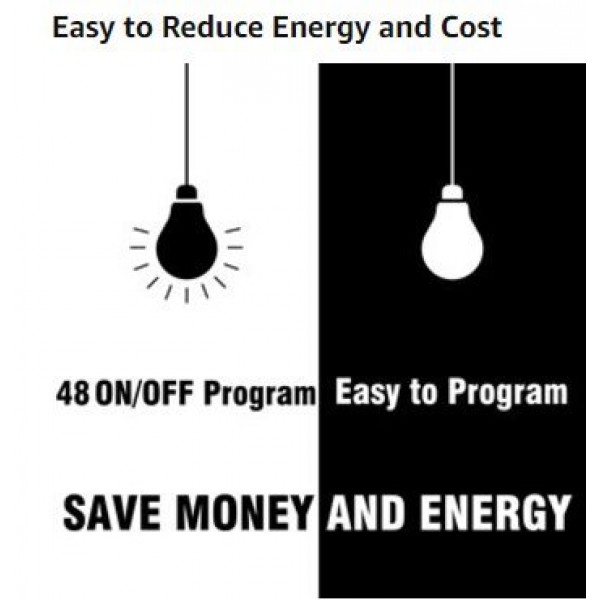 iPower 24 Hour Plug-in Mechanical Electric Outlet Timers Switch Programmable Indoor, Accurate Heavy Duty 3-Prong for Lamps Fans Christmas String Lights, AC 1725W 1/2 HP, UL Listed, White
iPower; 24 Hour Heavy Duty Plug-in Mechanical Timer can be easily used indoor only as kitchen timer, garden timer and more. Automates fans, lamps, lights, sprinklers, seasonal/ decorative/ holiday & Christmas lighting, illumination, heat, A/C, and other electronic appliances. The light timer can control up to 48 groups of ON/OFF switch. Several timing combinations can be set such as hourly, daily, weekly and group of the weeks. Settings Automatically Repeat Every 24 Hours
Specifications:
Length: 4.7 inches
Width: 2.75 inches
Height: 3 inches
Weight: 8 ounces
Rated Voltage: 125VAC, 15A, 60 Hz, 1/2HP, 1725W
Life's a Breeze with iPower
Always on schedule, always be cool
Automate lights to turn on and off, morning and night
Automate AC, heater or fans to turn on before arriving home
Automate coffee maker to start before you get up
Automate battery chargers to avoid over-charging; extends the life of the battery 
Small Red Led light is Output Indicator
Programming Example:
Assume it is 08:05 AM, and you want to set timer on between 8:30AM ~ 9:45AM


1. Set Current Time
Rotate the dial CLOCKWISE until the arrow aligns to 08:05 AM
2. Set Timer to be ""ON""
Push down all the pins between 8:30AM & 9:45AM
Note:
Please Double Check AM/PM. Black Part is for 12AM ~ 12PM; White Part is for 12PM ~ 12AM
Each Pin Represents 15 minutes
If you plug the timer between 8:20 AM and 10:40 AM, it will not turn on the appliance right away so as to avoid power surge
15 minute on/off, 24 hour setting, 96 on/off programs. Settings automatically repeat every 24 hours. Grounded 3-prong design to ensure safety use
Rated voltage: 125VAC, 15A, 60 Hz, 1/2HP, 1725W
Automates fans, lamps, lights, sprinklers, seasonal/ Decorative/ holiday & Christmas lighting, illumination, heater, a/C, and other electronics to help reduce energy and save money. Indoor use only
Essential for everyday home kitchen use, compact fluorescent lighting, LED bulbs etc.
UL Listed, 1 year manufacturer