Intermatic HB880R 15-Amp Outdoor Digital Timer for Control of Ligh...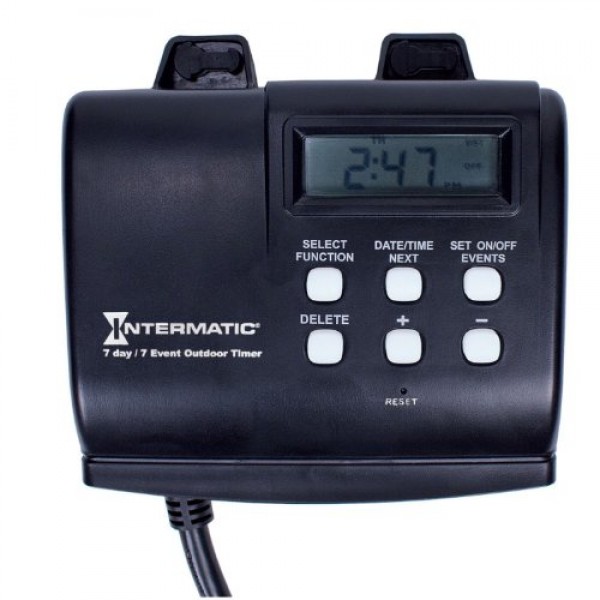 Intermatic HB880R 15-Amp Outdoor Digital Timer for Control of Lights, Decorations, Pumps or Fans with Astronomic Self Adjust
Applications
- Pumps
- Water Fountains
- Aerators
- Landscape/Holiday Lighting
- Engine Block Heaters
- Retail Signage and Store Lighting
Features
- 14 ON/OFF programmable events
- Full 7-day programming options, including astronomical clock, automatic DST adjustment, and random mode
- Rainproof, outdoor rated enclosure with two grounded receptacles
- 3-prong plug on a 24" long cord
- Incandescent/fluorescent/CFL/LED compatible
- AA battery backup (included)
- Plugs directly into wall outlet
This 120 Volt, 15 Amp Intermatic outdoor digital timer is an easy to set 7 day timer with Astronomic feature (follows daily changes in sunrise/sunset times), automatic daylight saving time adjustment and 7 ON/OFF events. For additional safety and security the HB880R also features random setting to turn lights ON and OFF at slightly different times each day. Controls LED, CFL, incandescent and fluorescent lights. Ideal for holiday lights, flood lights, landscape lights, fountain lights and engine block heaters. Two (2) timed grounded receptacles and 24-inch heavy duty cord. Replaces Intermatic model HB800RCL.
Full feature plug-in timer provides 7-day programming in a weatherproof enclosure, with a total of 14 ON/OFF events
Astronomic setting enables timer to automatically adjust event schedules in relation to the changing sunrise/sunset times for maximum efficiency
Plugs directly into wall outlet with 24" cable and provides 2 timed and grounded and plug configurations is 5-15
Common usage includes control of LED and CFL lights, irrigation pumps, engine block heater, aerator
Random setting can be used with security lighting to provide a lived-in appearance