Ice It ColdCOMFORT model 512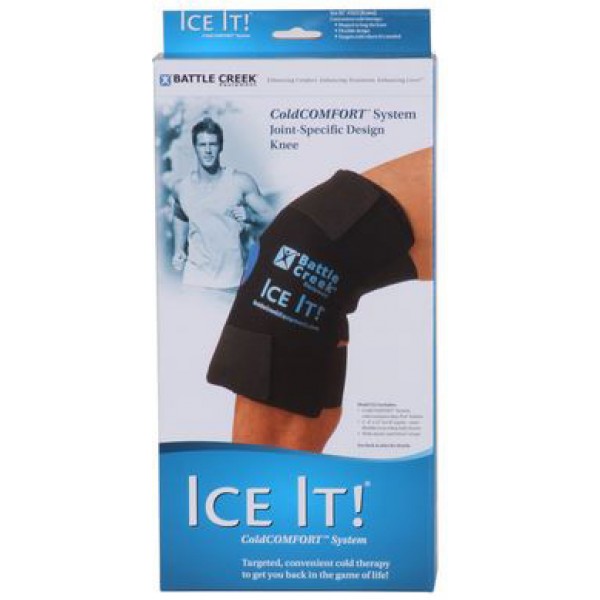 Ice It ColdCOMFORT Knee therapy system is an articulated design that surrounds the entire knee for maximum therapeutic benefit.
Comfortable, secure fit lets you relax or allows you to continue activities during therapy sessions.
Includes: 12" x 13" fabric holster with elastic and Velcro straps and two 6" x 12" cold packs.
What's In The Box
2 6"x12" Cold Pack
Stay Put Holster
Elastic Strap and velcro straps
The Ice It Cold Pack Features Fully Flexible: Molds around painful areas when frozen High Freezing Point: Quickly reaches freezing temperature Stays Colder Longer: Maintains temperature longer for maximum therapeutic benefit Quality Materials: Non-toxic fill inside latex-free vinyl Durability: Can be used several times a day
The Fabric Cover Features Protects Skin: Fabric shields skin from hypothermia related tissue damage Insulated: Retains temperature longer Comfort: Plush fabric & foam cushion are soft & gentle on sensitive skin Protects Clothing: Prevents condensation from wetting clothes Machine-Washable: Fully removable to maintain freshness and appearance
The Elastic Strap Features Velcro: Fully detachable at both ends Stability: Provided by generous width Long Length: Provides virtually unlimited positioning options Compression: Adjusts for customized compression Hands-Free Usage: Allows you to maintain activity during cold therapy
Item No BC-512