Hyaluronic Acid Brightening Serum:ReishiKojic Acid+Licorice+Will...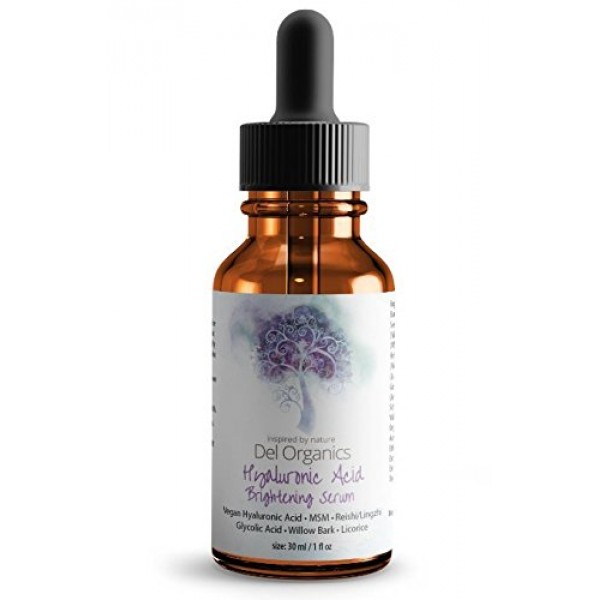 Drawing up to 1000 times its weight in moisture from the environment, the botanical Hyaluronic Acid in this serum delivers long hours of deep skin hydration without greasiness. Acting as natural Hydroquinone alternatives, Reishi Mushroom/Lingzhi and Licorice serve as more effective and safer skin brightening agents. Glycolic Acid (AHA) and Salicylic Acid (BHA) from Willow Bark gently exfoliate and refine skin's texture. Along with botanical extract blend of Lemon Balm, Anise, Horseradish, Schisandra, Fennel, Ginseng, Gotu Kola, Horsetail, Dandelion and Geranium, this serum nourishes, revitalizes, balances, soothes and clarifies skin. This serum is also suitable for acne prone and problematic skin types.
Key Ingredients: 1) Botanically derived Hyaluronic Acid: It bonds water molecules up to 1,000 times its own weight to our subcutaneous tissues. 2) Reishi Mushroom/Lingzhi: It contains Kojic Acid, which is a more effective and safer Hydroquinone alternative for lightening skin. Reishi also promotes skin's vitality. 3) Organic Licorice: It acts as a natural substitute for Hydroquinone. It also provides antioxidant, anti-inflammatory and balancing effects to our skin.
Key Ingredients (con't): 4) Willow Bark: Salicylic Acid (BHA) contained in Willow Bark extract acts as a natural exfoliant. Willow Bark extract also has antioxidant, anti-inflammatory and antiseptic effects on skin. 5) Glycolic Acid: it is one of the safest forms of Alpha Hydroxy Acid (AHA) for exfoliating skin. 6) MSM: It builds Collagen bundles, hydrates and softens our skin, and enhances deep skin penetration.
Functions: 1) Secures long hours of deep skin hydration without greasiness. 2) Inhibits and reverses the formation of skin pigment, Melanin. 3) Gently exfoliates and sheds dead skin cells, clears pores and stimulates new cell formation. 4) Calms and soothes problematic skin. 5) Balances sebum production. 6) Nourishes and revitalizes skin with natural antioxidants, vitamins and minerals from botantical blend base.
The Results: 1) Skin looks plumped and resilient. 2) Skin feels hydrated and supple. 3) Skin's complexion appears more even tone with translucent luminous glow. 4) Skin's texture looks more refined and pores are minimized. 5) Skin appears purified, detoxified, rejuvenated & revitalized. 6) The appearances of hyper-pigmentation, photo-damage, skin discoloration, age spot, freckle, melasma & acne scar are diminished. 7) Problematic skin is calmed and soothed down. 8) Skin is balanced & less oily.