Holmes True HEPA Filter HAPF600D-U2, Filter B, 2 Pack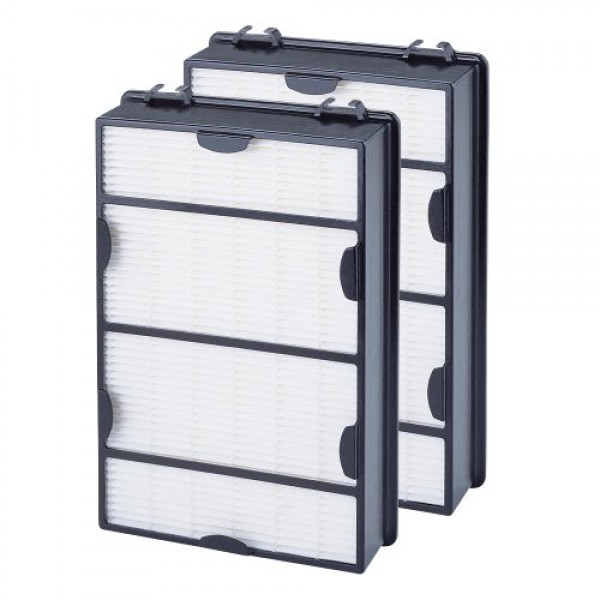 View larger
Allergy Season Alert
This could be the worst allergy season on record. The good news is you can help protect yourself and your family from indoor air pollution.
Holmes disposable HEPA Filters trap and lock up to 99.97% of dust and other harmful airborne allergens as small as 0.3 micros from air passing through the filter. You and your family can take measures to protect yourself and breathe cleaner, fresher indoor air with a Holmes HEPA Filter which can help to dramatically improve home air quality.
Breathe cleaner, fresher indoor air.
Most indoor environments contain contaminants that could potentially cause harm to both people and pets. By removing these contaminants with a HEPA filter – before you breathe them in – places such as your home or office will have improved air quality.
How Does 0.3 Micron Size Compare?
Most airborne particles are invisible to the naked eye, which means that they are smaller than 40 microns. That is why it is important to understand how a HEPA filter can trap the air particles down to the sub micron size for particles as small as 0.3 microns. If you take into consideration that Tobacco Smoke is 1.0 Microns; Cat Allergens are 5.0 Micron; Household Dust visible to the human eye is 10.0 Microns; Pollen and Mold spores are 30 Microns so you can see how a HEPA filter can be a significant help to make indoor air quality more comfortable and healthier.
HEPA is a type of highly efficient filtration media that removes microscopic particles from air passing through the filter.
Removes up to 99% of airborne pollutants
HEPA filters need to be replaced every 12-18 months depending on usage.
Requires no cleaning - simply toss your dirty filter into the garbage.
Indoor air may be up to 5 times more polluted than outdoor air.
According to the EPA, Americans spend up to 90 percent of their time indoors. Children and the elderly are especially sensitive to air pollution. Most pollutants are microscopic and can easily pass through the nose or throat directly into the lungs. Air Purifiers are designed to help remove airborne particles and odors as the air passes through the filters helping to remove pollutants, allergens, and other contaminants from the air you breathe. After the air is filtered a powerful fan quietly distributes the clean air back into the room.
Contains 2 True Hepa Replacement Filters that remove up to 99.97% of airborne particles as small as 0.3 microns from air passing through the filter
Fits Holmes models: HAP615, HAP625, HAP650, HAP675RC, HAP725, HAP750, HAP1625, HAP1650, HAP1725 and HAP1750
Also fits Holmes models: HAP616, HAP633, HAP653, HAP726, HAP756, HAP759, HAP8615, HAP8650 and HAP9726
Fits Bionaire models BAP260, BAP815, BAP825, HAP1225 and BAP125
99.97% Hepa Filtration