Squirrel-X Squirrel Proof Bird Feeder, Tube Feeder, Four Feeding P...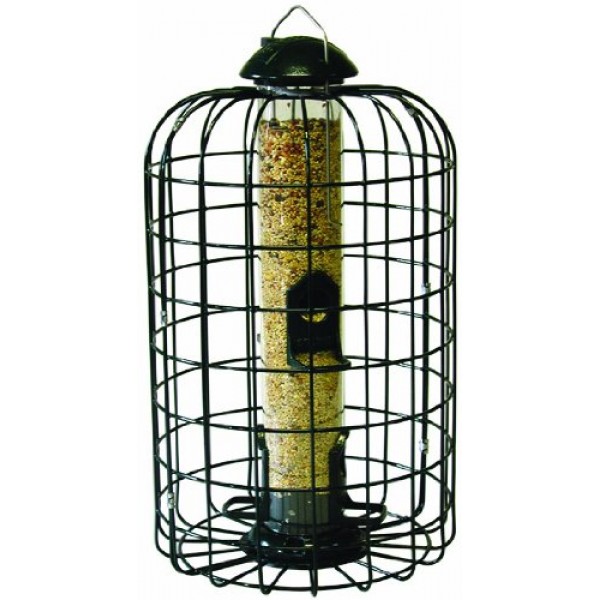 Squirrel-X Squirrel Proof Bird Feeder, Tube Feeder, Four Feeding Ports, 1 Pound Bird Seed Capacity, Green
Squirrel-X Squirrel-Proof Tube Bird Feeder
Our friends of flight are happy to flock to your trees when adorned with the Squirrel-X Squirrel-Proof Tube Bird Feeder. Making your birds feel safe and sound from pesky predators, your feathered friends easily slip inside our powder-coated metal design to feast upon scrumptious bird seed. The classic green color attracts many bird varieties and the four port design provides ample places for the birds to feast. The opening mechanism is specifically designed to deter squirrels from intruding, but is simple for bird caretakers, enthusiasts and hobbyists to open, fill and clean.
The Built-In Pole Socket is compatible with any of the Squirrel-X or Stokes Select Bird Feeder Poles and can be assembled without using any tools. The unique Perch designs allow birds to grip easily and the portal has a slight overhang to keep the seed dry. The Squirrel-Proof Tube Feeder is as easy to clean and refill as it is to enjoy.
Holds up to 1 pound of bird seed
Internal angle directs seed away from the center and evenly distributes to all ports
The clear feeder design allows you to see the bird seed level at all times
Four perches make ample space for feeding
Cleaning Your Bird Feeder
Please! For the sake of the birds, keep your Bird Feeder clean! Dirty Bird Feeders spread disease. Soak all parts in a 50/50 solution of white vinegar and water.
Classic Brands
Classic Brands is a family-owned company with over 100 years of management and design experience in the birding industry. We are also a company comprised of individuals passionate about birds. We make bird feeding easy! We took careful time and consideration to develop quality birding products to bring more birds and more joy into your yard.
BIRD SEED CAPACITY: Tube bird feeder holds up to 1 pound of bird seed
FEEDING PORTS: Total of 4 feeding ports
DEDICATED DESIGN: Metal cage is designed to keep our squirrels, but allows small and some medium sized birds to enter
COMPATIBILITY: Add a Squirrel-X 15-Inch or 18-Inch Baffle for added protection
PHILANTHROPY: A portion of every purchase is donated to a bird habitat and conservation