Herstyler Argan Oil Hair Serum, Brings Back that Natural Shine, 2 ...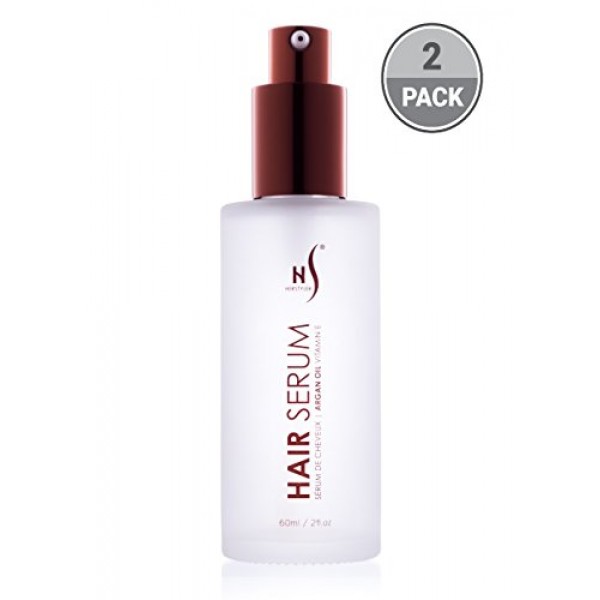 Herstyler Argan Oil Hair Serum, Brings Back that Natural Shine, 2 Fl. Oz/60 Ml (Pack of 2)
Have you ever had a salon nightmare? You know the kind - you go try to replicate salon-quality results, and in the process of using your flat iron or curling wand, you smell that characteristic scent of burning hair. Frantically, you search for hair oil serums online, but nothing seems to bring your hair back to life. What can you do to get that natural, healthy shine back? We've got a solution for you - Herstyler Argan Oil Hair Serum in a pack of 2 (to help you plan for any future nightmares).
Too often, frizz control hair products are heavy, greasy products, but not this one. Formulated with argan oil, this hair straightener serum works on restoring shine and conditioning your hair and strengthen it for later. Do you spend all day trying to tame those annoying flyaways? Maybe your hair becomes a big frizzy bird's nest when you walk outside. Not anymore - this hair thickening serum tames frizzy hairdos and finally gets those pesky flyaway hairs to behave.
There are no obnoxious scents here - we've used a barely present (yet still pleasant) scent so that you don't smell like you bathed in perfume. When you want to restore that lustrous shine and silky softness to your hair but you don't want to pay the salon price tag, give this hair repair serum a try.
GET YOUR BEST HAIR EVER without having to look or feel dry, oily or greasy
WORKS ON ALL HAIR TYPES, from straight and curly to frizzy and damaged
DIMINISHES FRIZZ AND FLYAWAYS, finally putting them in their place
ENJOY SILKY AND STRONG HAIR with a single hair care product
LIGHTWEIGHT SERUM that doesn't weigh your hair down