HEALTHYMODELLIFE Exercise Fitness Hoop for Adults - Easy to Spin, ...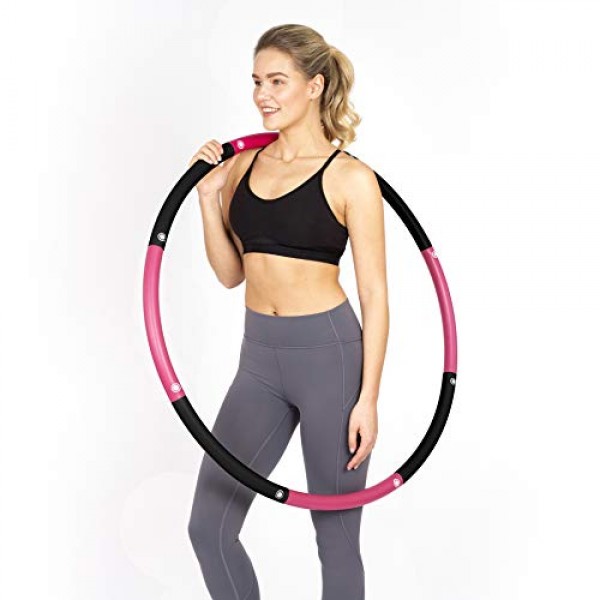 HEALTHYMODELLIFE Exercise Fitness Hoop for Adults - Easy to Spin, Premium Quality and Soft Padding Weighted Hoop - 4lbs
★FEEL THE BURN! –Weighted at 4 lbs, this fantastic workout tool offers the challenge for the most advanced level of your workouts. Burn more calories, and maintain your fitness game at the highest level.
★SMOOTH MOVE –Exercise hula hoops with massage bumps serve their purpose, but aren't ideal for actually working out. We bring you a perfectly smooth design so you can focus on your fitness first, without the distraction!
★A COMFORTABLE EXPERIENCE –While you target those abs, you'll appreciate the quality in our construction and extra padded comfort you just won't find anywhere else. Better still, it's easily assembled, and easy to use. What could be better than that?
★STAND UP STRAIGHT –Working out with Exercise Hula Hoop requires you to have great posture to do it effectively, so what better way to make sure YOUR posture is up to par? Forget boring core workouts, and enjoy a better way to tone up with Healthy Model Life fitness gear!
★GUARANTEED –Best of all, we offer a full ONE YEAR GUARANTEE on every hoop we sell! We believe in quality, and we believe you should always get what you pay for, and if you ever feel like you did not, just let us know, and we promise we'll make it right!