Healthy Ponds 51160 Aquasphere PRO Biodegradable Pond Treatment, T...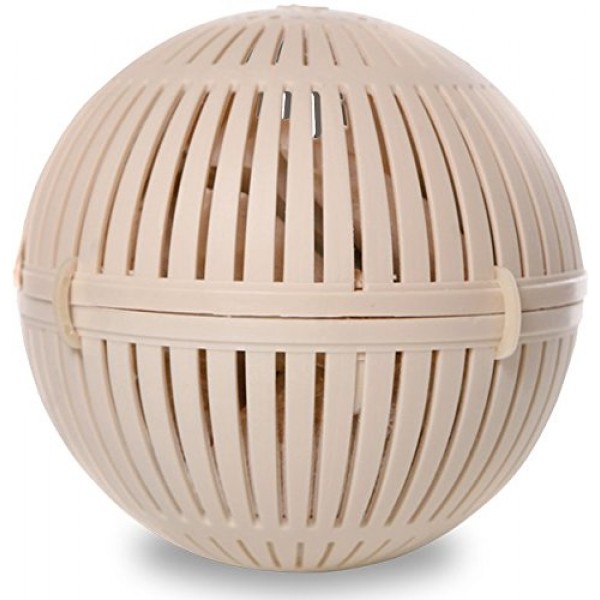 Healthy Ponds 51160 Aquasphere PRO Biodegradable Pond Treatment, Treats up to 1,500,000 Gallons, Tan
This 6-inch sphere is preloaded with a natural bacteria and enzyme blend which reduces excess nutrients, sludge and ammonia, resulting in improved water quality and clarity. A patented timed-release system incubates and releases beneficial bacteria and enzymes 24 hours a day, 7-day a week, over a 30-day period. Treats up to 1,000,000 gallons (to calculate pond volume in gallons, multiply pond length by width by average depth by 7-1/2). Being all-natural, you can't over treat. PRO formula works effectively in water from 34° to 110°F. Safe for humans, pets, fish and plants. This new 6-inch sphere is designed with a higher concentration of bacteria, the same bacteria that has made the Healthy Ponds product line successful. This new sphere is to be used in larger bodies of water, allowing more economical water treatment. Healthy Ponds recommends using multiple spheres, placed at various locations in the body of water, to achieve the best results. Example: If you have a 1,500,000 gallon pond we recommend using one 1,000,000 gallon AquaSpherePRO and one 500,000 gallon AquaSpherePRO instead of using one 1,500,000 gallon AquaSpherePRO. Made from a corn-based polymer; after 30-day, sphere can be disposed of or composted. Replace every 30 days. May require 4 to 6 weeks to achieve water quality improvement. Most effective in ponds with pH level between 6. 0 and 8-1/2. Includes string for easy retrieval. Disclaimer: Molded from resins that have been certified compostable to the requirements of ASTM D6400 and shown to be marine degradable per the requirements of ASTM D7081. Made in USA.
Natural bacteria and enzyme blend reduces excess nutrients, sludge and ammonia, resulting in improved water quality and clarity
Treats up to 1,500,000 gallons; for best results use multiple spheres placed at various locations in the body of water
Provides 24/7 water conditioning for 30 days
Saves time and effort, with no mixing, measuring or mess
Safe for humans, pets, fish, birds and plants