Konquest KBP-2910W Automatic Wrist Blood Pressure Monitor - Accura...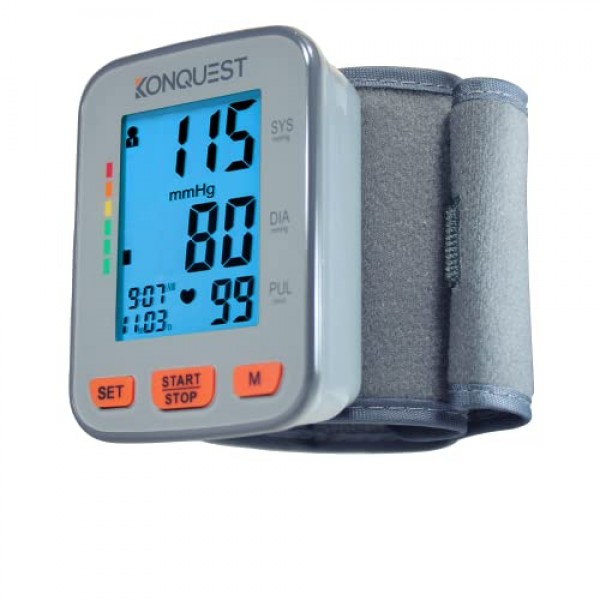 Konquest KBP-2910W Automatic Wrist Blood Pressure Monitor - Accurate - Adjustable Cuff, Large Screen Display - Portable Case - Irregular Heartbeat Detector - Tensiometro
High Accuracy BP & HR Monitoring The blood pressure machine for home use is built with our latest chip and advanced AI algorithm. This blood pressure monitor detects your blood pressure with superior high accuracy. While measuring the blood pressure, it also detects your heart rate and will alert you if there is any irregular heartbeat detected.,All process just needs 50 seconds and one-touch on start button. Designed to be at a 60° angle, the display is easy to read and optimized for viewing.
Large Backlight Color Display for Easy Reading With the large reverse backlight display and large digital numbers, this blood pressure machine presents the readings clearly. With the specially enlarged font, it makes the readings more reader-friendly. 6 Colorful pressure level makes it Clearly to know your pressure level.No matter in the day, or at night, the blood pressure monitor delivers clear & accurate readings for your health reference.
240 Readings & Large Adjustable Cuff Design The BP monitor works fo 2 users with up to 240 readings(120 for each). And it takes 3 consecutive readings to find your average blood pressure, giving you a more comprehensive reference for health. The adjustable arm cuff fits most of arm sizes (22-42cm/8.7-16.5inch). This uper arm Blood presssure monitor features auto cuff detection tech that alerts you with indicators if operated wrongly, ensuring you accurate results of every detection.
One-Touch Operation with Carrying Pouch For easy operation, the fully automatic upper arm blood pressure monitor starts to detect both your blood pressure and heart rate with just a press. Put the large cuff on your upper arm and press the start button, the BP monitor will work quickly and accurately. If no button is pressed in 2 minutes, the monitor will power off automatically. It's compact and comes with a carrying case, bringing you excellent portability to take it anywhere with you.
Two Power Supply This blood pressure monitor can be operated by 4 AA batteries (included) or Type-C charging cable(included). Package Included 1* Blood pressure monitor, 1* Blood pressure cuff, 4*AA batteries, 1* USB Cable, 1* Carrying Case, 1* Users Manual, 1*Users Quick Guide. (AC adapter is not included considering their popularity and environmental protection)Home Automatic blood pressure monitor helps keep track your numbers everyday.