ExpressionMed - Adhesive Patch for Libre 5-Pack - Made in The US...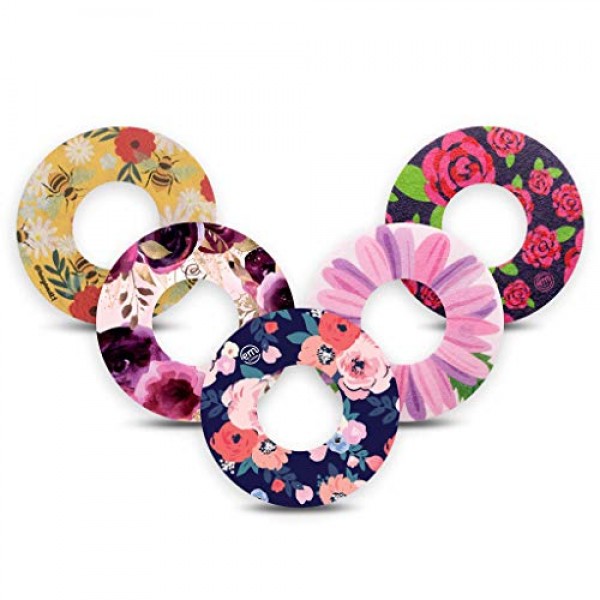 ExpressionMed - Adhesive Patch for Libre (5-Pack) - Made in The USA, Waterproof, Split Backing, CGM Tape (Wildflower)
✌️ IS IT DIFFICULT TO KEEP THE SENSOR ON YOUR SKIN FOR A LONG TIME? New WATERPROOF ADHESIVE PATCHES by Fixic work with Enlite – Guardian – Libre sensors and keep them over 2 weeks! It has been TESTED SUCCESSFULLY, OUR PATCHES STAY PUT ON THE SKIN for 14 DAYS!
✌️ THE ADHESIVE BACKING of our adhesive patch CONSISTS OF THREE PARTS – peel & stick our libre patches easily – it's so easy to cover any type of Your sensor: ENLITE – GUARDIAN – LIBRE!
✌️ Our adhesive patch is SAFE FOR YOUR HEALTH – WATERPROOF ADHESIVE, LATEX-FREE, HYPOALLERGENIC. STRETCHABLE & FLEXIBLE cotton material lets Your skin breathe.
✌️ 25 WATERPROOF ADHESIVE PATCHES ARE 4 1/2" x 3 1/5" BY FIXIC – THE BEST WATERPROOF SHIELD for ENLITE – GUARDIAN – LIBRE sensors in ANY ACTIVITIES.
✌️ WE GUARANTEE OUR CUSTOMERS 100% SATISFACTION WITH OUR PREMIUM WATERPROOF ADHESIVE LIBRE PATCHES. IF YOU DON'T LIKE OUR PRODUCT – WE REFUND YOU – JUST TELL US! ORDER IT WITHOUT RISK – PRESS THE BUTTON «ADD TO CART» Right Now!