Gymnic Disc o Sit Jr. Inflatable Seat Cushion, Red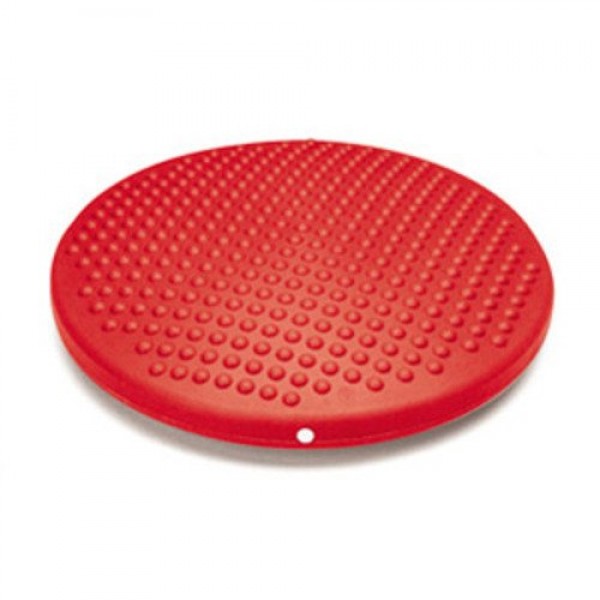 The most intelligent form of exercise therapy available - the
Gymnic Line of Therapy Products
. The Disc 'o' Sit Jr Cushion is an inflatable dynamic cushion that activates intrinsic trunk muscles to support the spine. The circular contour mimics both the movement and the shape of Gymnic exercise balls in any seat. It is sized just for children and fits well in elementary school chairs and other child-sized chairs. Inflate to your child's perfect comfort level.
The Gymnic Line is an excellent "way to move", to get in shape and have fun while exercising and maintaining overall health, fitness and wellness!
The Ledraplastic SpA, manufacturer of the Gymnic line, was founded in 1963 and was a pioneer in the processing of non-toxic vinyl. The first two decades of production focused on toys for young children, such as puppets made ??under license from the Walt Disney Company. From the mid-eighties, Ledraplastic SpA has established itself as a manufacturing leader in various areas ranging from toys to fitness to physical therapy and wellness. Gymnic - The Way to Move is the brand where design is based on the concepts of movement and comfort of people of all age groups.
In order to achieve the company's mission, the materials used are of the highest quality thus ensuring compliance with product regulations in the European Union and United States. The vision of the company in the field of safety has also resulted in the whole line of products being completely free of Phthalates, BPA and Latex. All Gymnic products are made in Italy with no toxic emissions into the atmosphere and all products are also easily recyclable!
An inflatable dynamic cushion that activates intrinsic trunk muscles to encourage active sitting and support the spine
Circular contour mimics both the movement and the shape of Gymnic exercise balls in any seat
13" diameter is designed especially for children and fits well in elementary school chairs
Adjust inflation to the perfect comfort level
For ages 3 through 12 years