Grow Light Winter 6 Pack 16-inches LED Grow Light Strips with Time...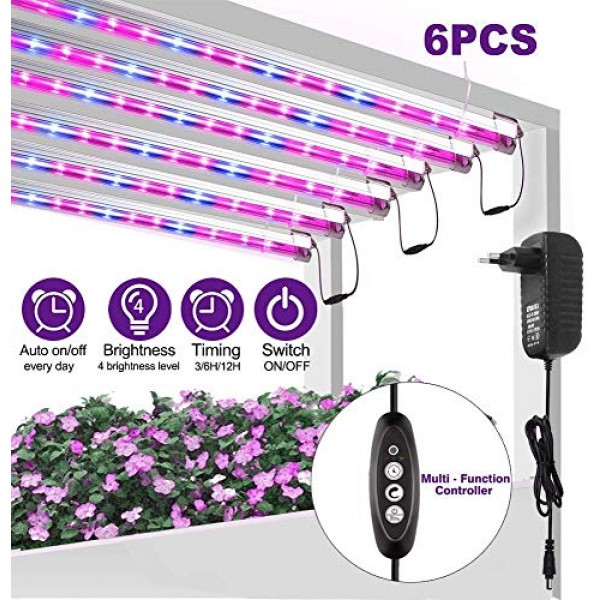 Grow Light Winter 6 Pack 16-inches LED Grow Light Strips with Timer/Extension Cables 60W Plant Light Bar Red Blue Spectrum 4 Dimmable Levels for Indoor Plants Seedling Hydroponics (with Mounting Kit)
Why Choose us?
★Sunlight led strips:60W,96 LED full spectrum chips
★4 Brightness Modes: 25%, 50%, 75%, 100% Brightness.
★3 Timing Modes & 3 Lighting Modes: Red Light,Blue light,Red+Blue light.
★3/9/12H timer which can cycle turn on and off everyday.
★With specially-designed professional light spectrum for plant growth from germination to flowering and fruiting.
★High luminous efficiency, lower power consumption and long service life led bulbs.
Specification:
Power:60W
Material: PVC
Input Voltage: 12VDC
Working R/T:-20~50C
LED Chips Ratio: (Red : Blue) = 72 : 24
Red Light Wavelength: 660 nm
Blue Light Wavelength: 460 nm
Lifetime: 50000 hours
High PAR Values & Recommend Working Time :
6 Inch: 239.6umol/m²s.
12 Inch: 79.8umol/m²s.
18 Inch: 28.8umol/m²s.
36 Inch: 14.6umol/m²s.
Seedling Stage: 10-16 hours/day.
Vegetative Stage: 12-18 hours/day.
Flowering Stage: 12-14 hours/day.
Package Includes:
1 X driver.
1 X double-sided tape.
1 X 6pcs grow light strip.
5 X lengthened daisy chains.
1 bundle extra Nylon cable tie.
MORE EFFICIENT & SUPER BRIGHT: Our High PAR value indoor plant lights equipped with 96 full spectrum LEDs, 400nm-700nm high efficiency spectrum, high PAR value, luminous efficiency reach up to 98% without any waste. It provides the most important spectrum for veg, flower, succulents, verbena plants, etc. Efficiently shorten the growth cycle, also increase the yield to great degree.
AUTO ON OFF & TIMING FUNCTION: LED Plant grow lights comes with automatic ON/Off & Timing Function switch and AC adapter . Not only can you set it up for lighting every 3/6/12 hours, but you can also adjust the brightness of the light, according to plant needs. Set up once and it will turn on and off automatically EVERY DAY!
4 DIMMABLE LEVELS: The grow light bar for seedlings has 4 adjustable brightness level, range from 25%,50%,75% to100% according to different growth stages of plants. Best LED grow light strips for starting seedlings, germination, vegetative & flowering.Use it for hanging plants, planting in trays or small pots in your indoor home garden or hydroponics growing system.
FLEXIBLE DESIGN & EASY TO INSTALL: This T5 LED grow light strips easy for you to finish your setup with the supplied super strong self-adhesive pads or cable ties, Easy to install on your cabinet, plant shelf, wall and growing system. You can choose to light your plants by connecting the 6 pcs light bars in a linear line. You can also choose to double the lights for your plants by connecting 2 pieces LED grow light bars in parallel.
BEST SERVICE: We are a professional LED light manufacturer with profession R&D department.Our team offer 12 months warranty and 30 days free return guarantee for the plant grow light; If you have any problems, please feel free to contact us. We will provide you with the best service.