Spring Assisted Knife - Pocket Folding Knife - Military Style - Bo...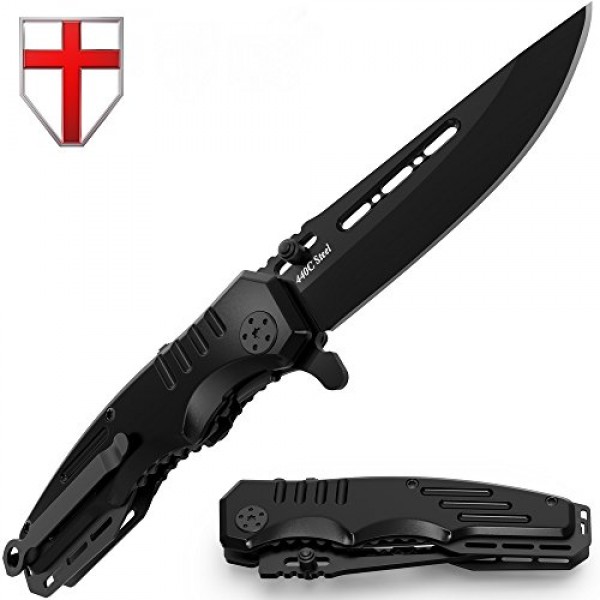 Spring Assisted Knife - Pocket Folding Knife - Military Style - Boy Scouts Knife - Tactical Knife - Good for Camping, Hunting Survival Indoor and Outdoor Activities Mens Gift 6681
Spring assisted knife GrandWay 6681 AN.
The blade of the folding knife is made of 440 stainless steel - unpretentious, good-quality inexpensive blade material and sharp like a razor. Steel 440 with high-quality thermal treatment is able to quite decently keep grinding. Sharpening such kind of steel is quite simple.
Semi-automatic device, it is absolutely another movement in knife industry. Knives with assists are in demand for hunters, fishermen, tourists, and perfectly suits for every day urban wearing, men safety and protection.
Another important advantage - even in case of spring breakage, this cool knife retains its absolute functionality, and you can continue using it as an classic pocket knife. It is also good as a scout knife and looks similar to military survival or police knife. It is also as small as any multifunction poket knife.
By purchasing our folding combat boot knife you get a high-quality, secure, safe, reliable, the sharpest straight edge knife made of solid high quality stainless steel with the lockback.
SURFACE OF THE BLADE: BLACK OXIDE
HANDLE MATERIAL: ALUMINIUM
LOCK TYPE: LINER LOCK
STEEL MARK: 440C
BLADE THICKNESS: 3,2 MM (0,125")
BLADE LENGTH: 87 ММ (3,42")
HARDNESS: 57-58 HRC
BLADE WIDTH: 25 ММ (0,984")
HANDLE LENGTH: 110 ММ (4,33")
OVERALL LENGTH: 197 ММ (7,75")
WEIGHT: 125 G (4,40oz)
Make a purchase and you'll get the gentleman's super knife that will rescue you in all unexpected situations, this durable knife will be your constant companion and assistant in all your hikes, personal defense, trips and travels, fishing, stabbing for quite a cheap price with an awesome discount. It is best edc flipper knife for man and girl.
The company «GRAND WAY» - is engaged in production and development of projects of knives (folding, hunting, tactical, flip souvenir with more than 1000 species.) under its own brand for over 15 years.

KNIFE WITH FOLDING SPRING ASSISTED OPENING BLADE AND POCKET CLIP has a simple and reliable liner-lock that is resistant to dirt and prevents unexpected closure. Equipped with the thumb studs for right and left hand use.
PERFECT TACTICAL KNIFE FOR EVERYTHING - Camping Edc Hiking Backpack Bushcrafting, Hunting & Fishing, Military & Army needs, Outdoor & DIY Activities, Survival, Self Defense, Emergencies.
BLACK COATED 440C STAINLESS STEEL - excellent balance of hardness and corrosion resistance ensures proper operation without sharpening. Provides razor sharp cutting performance and high durability.
Gifts for husband from wife, proving hugely popular as dad gifts, gifts for men, brother, college gifts for guys and even father in law gifts, perfect gift for Christmas, Graduation, Anniversary, Birthday, Thanksgiving day.
100% MONEY BACK GUARANTEE - Rest easy because your new knife is protected by Grand Way 10-year warranty. Can become a perfect gift for the man or woman in your life