Pocket Knife Spring Assisted Knives for Men - Assisted Opening Fol...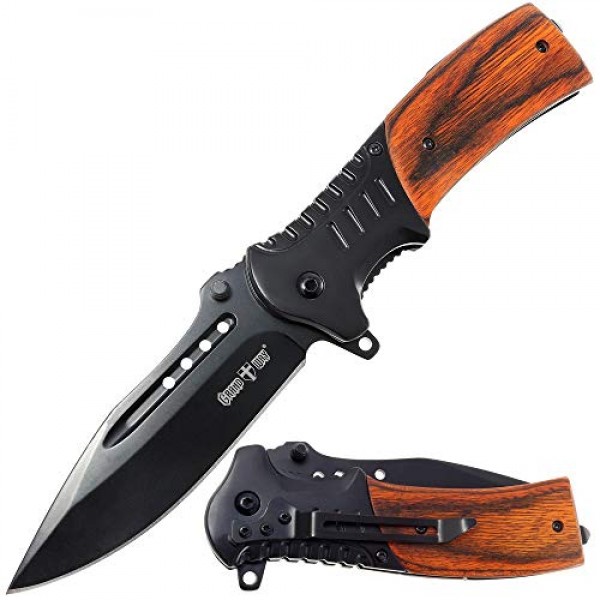 Pocket Knife Spring Assisted Knives for Men - Assisted Opening Folding Tactical Survival Knofe - EDC Camping Hunting Boy Scouts Gear Accessories Knifes Christmas Gift Ideas for Men Guys 6783
POCKET KNIFE FOR MEN is made of high quality materials. Blade material is 440C stainless steel, handle - wood and metal. Equipped with a glass breaker. Pocket clip available. Assisted opening knife. Tactical knife.
ASSISTED OPENING KNIFE is equipped with a safe and reliable liner lock. Equipped with the thumb studs for right and left hand opening. Sharp foldable pocket knife. Jack Knife. USMC marine knifes. Belt, Boot, Work and Hobby Knives.
ERGONOMIC AND LIGHTWEIGHT CONSTRUCTION - sharp, light and flat knife. Sturdy ergonomic black G10 handle with non-slip design perfectly fits in hands. Could be the best knife in your camp or hunt knife set.
FOLDING KNIFE FOR Camping, Hiking, Fishing, Travel, Survival, Climbing, Biking. Deer Duck Hunting. EDC, Work, Self Defense, Rescue, Safety, Military and Army Knife. Cool camp and boy scout survival gear. Camping accessories cooking, kitchen tools. Hunting and Fishing gear for men.
PERFECT GIFT IDEA. Sometimes it's hard to find a cool present for male or teen who has everything. Tactical folding knife would be the best and unique gift idea for any outdoors man or boy, whether it's a husband, dad or stepdad, brother, boyfriend, son, grandpa, grandson, friend, teacher, co-worker or even your boss. Such eco friendly accessory will be the top choice of gofts for engineers, programmers, police, hunters, fishermen or any marine.