Hunting Folding Knife with Metal Handle - Tactical EDC Pocket Knif...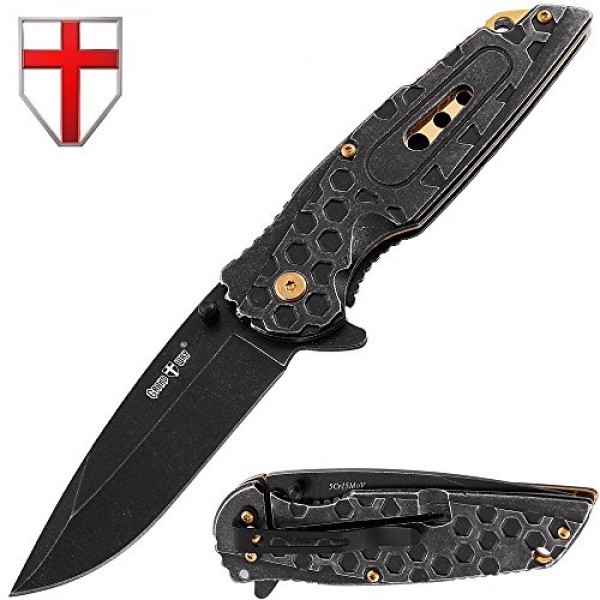 Hunting Folding Knife with Metal Handle - Tactical EDC Pocket Knife - Black Gold Foldable Long Blade Pocket Knife - Best Strong Pocket Knife for Urban Camping Fishing and Hiking WK 0128
GrandWay WK 04003 is a folding straight clip point blade knife made of high quality stainless steel with satin finish. This folder combines a modern technical design and time tested functionality.
This knife has a simple and reliable lock. The lock is very easy to handle and copes quite well with the loads.
Such multifunctional knives can be used also to rescue yourself in extreme or emergency situations and will always come to your aid during everyday use. This knife is a perfect gift for birthdays or any occasion to make nice to your friends, boys and guys.
SURFACE: SATIN FINISH
CLIP AVAILABLE: YES
MATERIAL: METAL
STEEL MARK: 8CR13MOV
BLADE THICKNESS: 2.9MM (0,12")
BLADE LENGTH: 100ММ (3,94")
TYPE: FOLDING
HARDNESS: 58-59HRC
BLADE WIDTH: 22ММ (0,87")
HANDLE LENGTH: 125ММ (4,92")
OVERALL LENGTH: 225ММ (8,86")
WEIGHT: 140G (4,94oz)

Quick open boy scout pocket knife for everything - Camping, Hunting & Fishing, Military & Army needs, Survival, pocket knife for men and women self defense.
Razor sharp tactical folding knife with belt clip. All black edc metal pocket knife equipped with a thumb stud for easy opening with right and left hand.
Multi purpose hunting and camping knife. Provides razor sharp cutting performance. Could be the best knife in your camp or hunt knife set.
Best selling lock blade protection pocket knife for kids for comfortable use. A great utility tool of high quality and sturdy materials for professional and tourism lovers alike.
Single blade locking pocket knife with clip under 20 dollars. The top rated fold out tactical survival pocket knife.